On Saturday mornings before a Bills home game, countless RV's will begin lining up outside Ralph Wilson Stadium in anticipation for Sunday's game. Without a doubt, eagerly awaiting to enter the RV lot will be Craig Eoannou and his 1996 #BuffaloBillsRV. Yes, Eoannou's RV has its own name, hashtag and Twitter handle!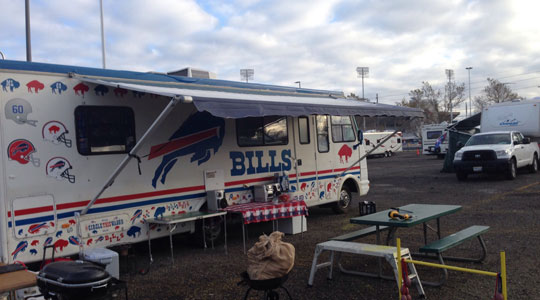 The 30 year-old from North Buffalo took some time out of his busy day to explain exactly how his RV turned into the conversation piece it is today.
Eoannou says he got the 29-foot RV two years ago, simply so he and his friends could all tailgate together. But like many "man projects" one thing lead to another, and before he knew it, his RV was covered inside and out with Buffalo Bills logos. "This should've been done a long time ago," said the second generation season ticket holder.
Eoannou says the RV was in pretty bad shape when he got it. "We tore everything out. The rugs, the floor, this is a new wall. I mean it was toast," said the Bills fan while proudly sitting in his RV. "It still needs work. Our front window is held up with duct tape for now."
But with some help from his mother, who just happens to be a seamstress, Eoannou began transforming his RV from the inside out.
Using Buffalo Bills fabric, his mom covered the seats, beds, pillows and everything else imaginable. She even made curtains and a Bills bed for Charlie, Eoannou's Jack Russell Pug.
But the diehard Bills fan didn't stop there. Eoannou said he wanted his dining room table and dashboard to look like a football field. So, he covered them with Astro Turf and then added bobble heads above the steering wheel. "I love driving and seeing them shake back and forth," he said while laughing.
In my opinion, the most impressive "décor" in the #BuffaloBillsRV is on the walls and ceiling. Every square inch is covered with pictures, stickers, signs, magnets and every other type of Bills memorabilia you can think of. I'm not kidding when I say it's something you've really got to see for yourself!
"I think it's unique because a lot of people do the outside of their tailgating bus. But we've done the inside," Eoannou said with a smile.
Don't be mistaken though, the outside of the #BuffaloBillsRV is just as impressive as the inside. The white RV has red and blue stripes around the bottom with dozens (if not hundreds) of Bills logos (both the charging buffalo and standing bison).
Eoannou, who actually proposed to his wife at a Bills game, got pretty creative with the back of his RV. Not only are multiple Buffalo Bills flags attached to the back, there's also a goal post (no, I'm not kidding) and of course, a #BillsMafia logo.
Eoannou's #BuffaloBillsRV may not be a luxury vehicle, but it's his and he's super proud of it. Matter of fact, he says his dream is to one day take it on the road to an away game.
If you haven't seen the #BuffaloBillsRV at a game yet, you really should make a point to stop by, get your picture taken in front of it and say hello. Eoannou says Bills fans are always welcome.
The #BuffaloBillsRV usually arrives at the RV lot at around 8am Saturday morning and remains at the lot until Sunday night. The RV is kind of hard to miss, but just in case you can't find it, Eoannou usually parks near the fire lane toward the center of the lot.
Be sure to follow the adventures (and upgrades) of the #BuffaloBillsRV on Twitter at @CircleThisWagon.
"The best part is driving it around. We've taken a trip down to Southern Tier Brewery, for somebody's bachelor party, people honking. I had 2 guys on motorcycles in front of me doing wheelies and waving back. We get a lot of stares."