The wheels fell off for the Jets. For the record, jets have wheels upon which they land even if they're not the vehicle's distinguishing characteristic. Anyway, the Bills played like they wanted to earn a week off while showing their plan to succeed during the post-bye schedule portion. Spreading the ball while keeping other teams from comfortably doing so is a simple plan that's tricky to execute. Thankfully, they spent Sunday proving that such a straightforward goal is achievable, which will help sustain the Mafia over this next stupid game-free week.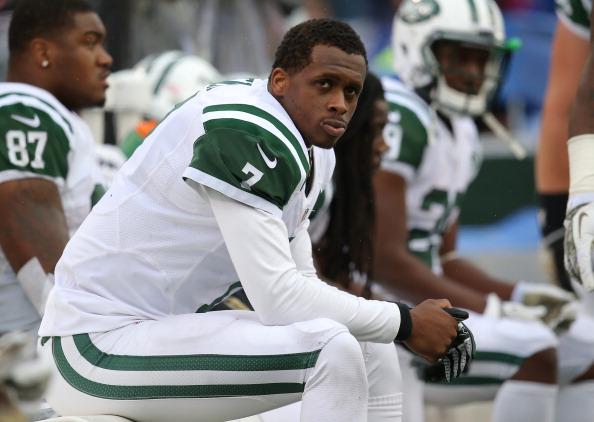 Buffalo's offense still must determine how to utilize their backs effectively if they ever want to make a grander run. Until then, they may as well use the pass to set up the pass. The lack of delightfully nasty rush blocking has caused C.J. Spiller to plunge from getting six yards per carry to six per game. But at least this offense compensated by remembering the value of setting up screens, not to mention throwing it to just about everyone active whose number started with a 1, 2, 3, or 8. By prudently establishing underneath throws so the Jets couldn't hang deep in coverage, EJ Manuel could then hang them out to dry.
The wind confused Jets kickers and cornerbacks, which is not a bond that strengthens locker rooms. By contrast, the Bills finally adjusted after coping poorly with conditions in Pittsburgh. At least they figured out what to do when the weather's bad before an eighth loss. Um, yay?
Most promisingly, T.J. Graham made a fine correction to work with a harried quarterback dealing with the breeze. By scoring so impressively, the wideout finally displayed the difference between having talent and deploying it. Marquise Goodwin similarly used his speed effectively to beat coverage on a gratifying touchdown. Unlike on the track, football races can be won by changing gears mid-race if it means a chance to field the ball.
While Geno Smith was statistically likely to misfire, the pass rushers ruined a high percentage of his passing attempts before he got the chance. This was definitely the most fun way for Mike Pettine to make the Jets miss his inventive blitzes, particularly those involving a stance with one fewer point than usual. Indistinctly hovering defenders near the line confused the poor Jets blockers, although that doesn't mean you need to feel bad for them.
In fact, take glee that Kyle Williams was properly unleashed against an obtuse offense. Smacking away the ball on a pass attempt just made the mercurial Smith even surlier. In light of the non-way he read Buffalo's coverage, he's become the world's most desirable poker opponent. Jairus Byrd certainly made a bunch of money off him.
Fans saw chaos theory at work as the Jets were in disarray. One offside penalty on what would have been a punt led to the Bills getting a new set of downs after instead going for it, which was followed by a touchdown, which in turn caused a harried Smith to not notice things such as Da'Norris Searcy's existence. It's not quite a butterfly flapping its wings causing a stampede in another hemisphere. But Buffalo did trample to the other end zone after exploiting the punishment assigned to one overeager special teamer. You'd better fluster a team that's defined by an inability to maintain composure.
Bills fans could relax in the midst thanks to their guys playing more calmly than New Jersey's junior franchise. With the caveat that nobody is entitled to anything, Western New York's fans have been due to land on the happy side of a game that's over before the end. This win is reminiscent of the Sabres suddenly getting new life, although Ted Nolan can't be credited for the football team winning by 23. Probably. Either way, it's quite nice enjoy a lambasting, especially following the season's bleakest week.
Finish the drama early. For fans, merrily relaxing during the fourth quarter of a game that's been won is more fun than the excitement provided by a last-second triumph. It was particularly satisfying to see EJ doing a lot if he's first asked to do a little. Now, it's much easier to spend a free Sunday looking forward to the filled ones.