The first half of Bills Overdose has left the Mafia on a high no matter how bumpy the voyage. Due to scheduling concentration, this spell competes for the most joyous football week all year presuming our team prevails often enough. Buffalo did what it could to ensure at least a split during the slate's overstimulated portion.
The week your team gets a Thursday game is like having a birthday on December 29, so fans may as well worry about the long gap without presents later. Playing the erstwhile and present Browns over a matter of a few days is one way to quickly learn how to convert enough to overcome mistakes.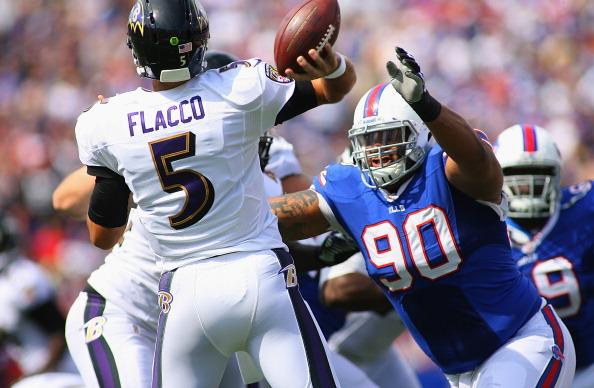 A good squad overcomes injuries instead of using them as excuses. Coaches may have to ask Ed Rutkowski to play cornerback at this point. But an abundance of casualties didn't make defenders quit before the kickoff. The Ravens acted like they thought they were only permitted to move the ball forward with passes, and the Bills managed to stay level enough against a wholly unbalanced attack.
Those left to combat passes looked stalwart under the conditions. Aaron Williams seemingly needed the perspective of seeing the game as a safety to excel at cornerback, as he now looks perfectly aware of where the ball is. Jim Leonhard landed back with the Bills after bouncing around just in time to field bouncing footballs. Justin Rogers was beaten on a touchdown, but he looked a little less like he needs ninja stars to compete effectively. Regardless, who needs a full secondary when you have Kiko Alonso conquering worlds and crushing the dreams of villagers who are cursed to cheer for his opponents?
A stout pass rush always helps those out back. After noting the guy from The Blind Side doesn't play on the blind side, it was even more fun to see him appear to not be looking when Marcell Dareus cast him aside in one of those games where the defensive tackle played like a third overall pick.
It seemed likely at first that Sunday would have to be used as an example of the perils of wasting potential. The frustration of only coming away with a pair of 27-yard field goals in the first quarter could have defined the day, like leaving a movie five minutes before the credits. But the plot moved satisfactorily as the characters grew: two touchdowns in the second quarter proved they can wrap up story lines.
This would be even more fun if they weren't overcoming their own errors. EJ Manuel had a few moments where he was unsettlingly nonchalant with the ball. While consistent accuracy remains a concern, his 42-yard touchdown pass reminds fans that he's capable of manifesting raw talent into results even this early in his career. The future looks most promising in light of how well he worked with Robert Woods both in space and while confined, although what should have been a second touchdown was negated by an official focused on excruciating minutiae instead of giving the guy who looked to be holding the ball credit for a tremendous play.
Winning on this particular Sunday was crucial to promoting immediate positivity. The fourth game's result noticeably affects a record while still being far along enough in the season to feel weighty. The difference between being .250 and .500 represents the gap between looking for positive signs that could fully develop in 2014 and cheering against AFC teams in inter-conference match-ups with wild card slots in mind. You're allowed to get a little ahead of yourself on double-game week.
The Bills ran well enough to justify a little extra enthusiasm. Most thankfully, Fred Jackson hammered his way to third all-time on the franchise rushing list using the same strong will that got him to this point. Meanwhile, C.J. Spiller looked more decisive than he did in the previous contest. Assuming he's healed enough during this brief interval, he'll have to continue picking a direction if this roster wishes to impose its will in Cleveland.
A short week may be advantageous to a young team, as they can't be overloaded with schematics with so few hours between kickoffs. Players just need to do their adopted city a favor by hitting the miserably juvenile Willis McGahee hard enough in Cleveland to warp his perception of it.
Their habit of employing effective aggression against the Ravens needs to be deployed more steadily against the Browns. After all, we want to celebrate through Thursday night and the semi-bye. Forget about the hangover equivalent this upcoming Sunday: hope to sleep it off with fond memories of worthwhile overindulging.