Week 1 of Fantasy Football is in the books, and as always there are some surprises that emerge out of the first games. This holds true for our beloved Bills as you may make some adjustments leading into the second week.
Buy Low on Spiller
I think it is safe to speak for all Bills fans in saying that CJ Spiller had a disappointing game on Sunday. The same can be said for his fantasy owners who were expecting a monster game from their first round pick. No one was expecting 17 carries for 41 yards, and Spiller owners in your league may be hitting the panic button early on this one. It wouldn't hurt to test the waters and see if you can get Spiller for a below-average price leading up to the Carolina game. He still had 5 receptions on the day, and owners can still expect Spiller to remain active in the passing game this season. If you own Spiller you are still starting him against Carolina this week. Even though Carolina's D limited Marshawn Lynch on Sunday, you play your studs and don't get cute.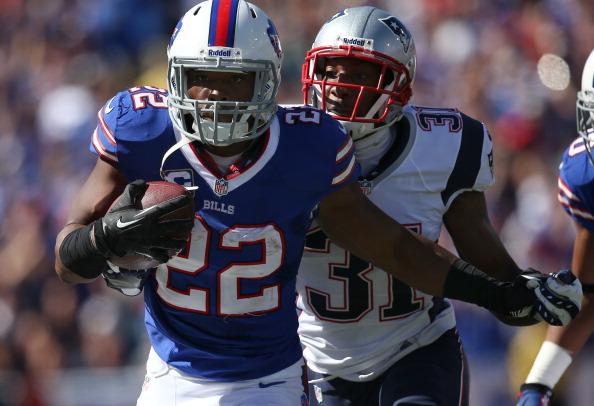 Pick Up Fred Jackson
With all of the preseason hype on Spiller, Fred Jackson was a bit of a forgotten man on draft day. As was noted before the season we still expect Jackson to get touches and he remains a nice option for a flex play each week. #22 did not disappoint on Sunday with 108 yards on 17 touches (13 carries and 4 catches). Owners should be very happy to have a back that gets 17 touches on their benches or in their lineups. Jackson is going to play, and should be owned in all leagues.
EJ Manuel's Debut
Prior to week 1 I picked up EJ Manuel in my keeper league. Following Sunday's game I felt good about the pick-up as Manuel delivered a solid fantasy performance. Everyone would have loved to see more than 150 passing yards – but 2 TD's, no turnovers, and 23 rushing yards make for a solid debut. Fantasy experts like Matthew Berry see Manuel as a possible top-15 QB this season, so don't be afraid to stash him on your bench in favor of guys like Ryan Tannehill, Brandon Weeden, Ben Roethlisberger, or Jay Cutler. Manuel has a greater upside thanks to his running ability.
Trusting the D
I'm not ready to scoop up the Bills D/ST just yet, but I am keeping an eye on them. Recovering 2 fumbles, an INT and 2 sacks make for a decent day – and Searcy's TD made it that much better. Was the first week a fluke, or is this defense for real? Things should improve once Byrd and Gilmore get back on the field, but I don't think you need to rush to your waiver wire just yet. The Bills only got to return one kick on Sunday, and this came after Marquise Goodwin's injury. Keep an eye on the D/ST unit in the coming weeks.
Enjoy the games this weekend and best of luck in all of your fantasy match-ups!