Mark Gaughan of the Buffalo News reported late Wednesday that Bills free safety Jairus Byrd and his agent Eugene Parker are trying to orchestrate a trade so Byrd can fly the coop. Not only is Byrd trying to leave town, but he may not play this week as he deals with plantar fasciitis. The injury has been limiting him in practice since his return to the team three weeks ago. For fans it's another disgruntled star that wants to leave Buffalo. For the Bills it's a headache. For Byrd it's business. From either point of view the reality is that Byrd needs to get with the program to get what he wants.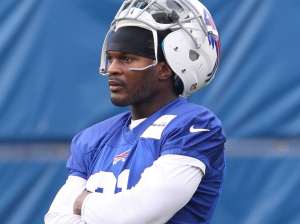 Byrd has played at a high level for the past four years and thus has made himself an important player to the Bills. One they would like to keep and count on to lead the team. The problem is that Byrd understands the NFL is a business and thus wants to be paid what he feels he deserves. Byrd's camp though has made some errors through this process, with the biggest mistake being his agent's failure to negotiate a no-franchise clause into his one year tender. The inability by his advisors to get at least the right to free agency for next year should be appalling. Byrd, if he plays well, could be stuck in the same situation again next offseason and unless he finds new found faith in the franchise, he very well may not bother trying to negotiate a long term deal.
But the blame isn't all on Byrd, the Bills deserve some as well. Color man and former Bills safety Mark Kelso tweeted earlier in the summer how two million dollars separated the Bills and Byrd from a long term agreement. Whether that's two million a year or two million in guaranteed money is a big question, but if the discrepancy was so small why make a mountain out of a molehill and not get the deal done? Now the organization and Byrd are left in an uncomfortable predicament. If Byrd doesn't play well then what do you do with him? If he does play well do you franchise him again and do this again next year? Or does the team give in and trade him, and even then for what kind of value?
The Bills have left themselves too many questions and not enough answers. They hope is Byrd plays, and plays like he has in previous seasons. For Byrd, he can buck up and play like his teammates, coaches and fans expect him too and hope a lot of the current issues go away and maybe a trade is completed. The downside being if Byrd plays poorly then more headaches for the team and him will be on the horizon.
Before the escalator clause for the franchise tag in this current collective bargaining agreement, the Seattle Seahawks had a running agreement with their franchise left tackle Walter Jones. For three consecutive years Jones was franchised. He would sit home and keep himself in shape during training camp, report the last weekend and be ready to play week one. Each year he earned his keep by playing at a high level and garnered Pro Bowl invitations. He also didn't care about the tag because he was getting paid handsomely. Byrd needs to read over the Walter Jones handbook. If you play you will get paid.