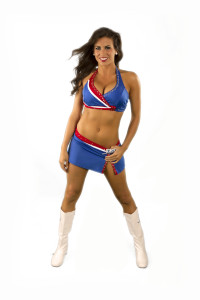 This week we're going to give a little love to our Buffalo Jills. These girls are simply awesome and some of the most dedicated fans out there… and I think they deserve a little time in the #BillsMafia spotlight.
Lisa, who's in her seventh season with the Jills, was kind enough to take some time out of her busy schedule to chat with us.
In full disclosure, I personally know Lisa so I'm a little biased… but I think you'll agree with me she's just as beautiful on the inside as she is on the outside and out on the field.
Jennifer: What made you want to try out for the team?
Lisa: I've been a Bills fan since the day I was born. I was a season ticket holder for a couple years before auditioning and always looked forward to watching the Jills perform.
Jennifer: What's the best part of being a Jill?
Lisa: The incredible opportunities I've had! I've traveled all over the world visiting our troops in Iraq, Kuwait, Kosovo, Singapore and Diego Garcia, I performed on stage with the Beach Boys for a military concert in Washington D.C. and I can't forget, representing the Buffalo Jills at the 2013 Pro Bowl in Honolulu, HI!
Jennifer: Being a Jill can't be easy?
Lisa: It's definitely a big commitment. It's tough to balance a full time job with our Jills schedule and still find time for family and friends.
Jennifer: Tell me about your schedule? How often do the Jills practice preseason and during season?
Lisa: We start the audition process in March and our practices begin immediately following the final team selection. We practice 6-10:00 pm every Tuesday and Thursday for the rest of the year.
Jennifer: I've always wondered, don't you girls get cold during the winter games?
Lisa: It's not terrible! Over the years we've learned how to keep ourselves warm while still looking like we're not wearing layers. This includes multiple pairs of nylons, Under Armor, and many hand warmers taped all over.
Jennifer: Who's your favorite player?
Lisa: I love watching our running back duo, CJ Spiller and Freddy Jackson!
Jennifer: Tell me three things people may be surprised to learn about you.
Lisa: 1. My favorite things to do at home are cooking and folding laundry.
2. I didn't make the team my first year auditioning.
3. I was a major "tom boy" growing up. I played every sport, loved video games, climbed trees and dressed like a boy!
Jennifer: How do you stay in such good shape?
Lisa: Catalyst Fitness provides us with a gym membership and we absolutely love taking their group fitness classes. Dancing for 8 hours a week definitely helps too!
Jennifer: Favorite food?
Lisa: Anything spicy! I can't live without jalapenos, pepperoncinis, salsa, hot sauce and crushed red pepper. Beware of my cooking!
Jennifer: Any pets?
Lisa: They are my babies! My Boston Terrier, Belle, and my cat, Mr. Pickles.
Jennifer: Any advice for younger girls who dream of becoming a Buffalo Jill?
Lisa: Never give up! I was very discouraged after not making the team and I almost made the huge mistake of not trying again. Being a part of the Jills organization has changed my life. I have made friendships that will last a lifetime and so many unforgettable experiences!
Be sure to follow Lisa and all the Buffalo Jills on Twitter: @BuffaloJills10.
Who's your favorite Jill? Who would you like to see interviewed next?