It will be an exciting preseason for the Buffalo Bills this year. With a new coaching staff in place, fans can expect to see the "starters" get a little more time than usual. Schemes are being implemented and players need to be evaluated in live game action by the new coaches. The following is a breakdown of what to watch for this preseason.
Let's start with the battle that everyone will be talking about until Coach Marrone ends the suspense about 10-12 days before the opener: the battle for starting QB position. Marrone has said that Kevin Kolb and rookie EJ Manuel will split reps 50/50 until he makes his decision. Kolb's recent injury has opened the door for Manuel. Hopefully Kolb will be back in time to participate Sunday, August 11 vs the Indianapolis Colts. I will watch Kolb very carefully in these games to see if he can perform at or above the level he played in his time with the Philadelphia Eagles. Even if he can perform up to that level, I don't expect he will win the job. He has a career QB rating of 78.9 and even when he was winning games for the Eagles, he threw as many interceptions as he did TDs while compiling a 76.1 rating.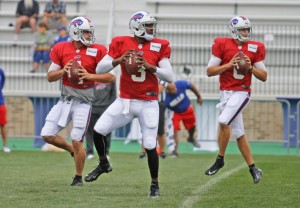 I do expect EJ Manuel to win this competition and I hope that he does. The Bills would be wise to find out if they have the man to help turn this team's fortunes around sooner rather than later. If he sits and they believe he will be their QB at some point and then he doesn't reach their expectations, they will have wasted 3-4 years by the time they find out. Bills fans do not have time for that.
It will also be interesting to watch rookie QB Jeff Tuel and see how he can perform at this level. Hopefully he continues to play as well as he did in the team's scrimmage and forces the staff to keep 3 QBs on the roster.
There is major competition at the WR position. It will be exciting to keep an eye on this group throughout the preseason to see how the depth chart shakes out. Stevie Johnson is the clear cut number 1 but he is out with an injury allowing even more reps for the rookies. Marquise Goodwin got everyone's attention during the live scrimmage both as a WR and a return man. Fellow rookie Robert Woods is expected to contribute right away and if Da'Rick Rogers reaches his potential 3 rookies could see significant playing time for this unit. T.J. Graham is currently listed as the starting WR opposite of Johnson. One thing is for certain, The 2013 Buffalo Bills will have an extremely youthful WR corps.
Last year's offensive line is intact except for the free agent departure of LG Andy Levitre. Colin Brown and Doug Legursky are currently listed as 1a and 1b on the depth chart other than the QB battle this one may be most competitive. Unfortunately at this point both players have been disappointing. Hopefully one of them step it up vs the Colts or the Bills may need to look elsewhere to fill this hole.
I am also interested in watching how the RBs are used. Will we see both Fred Jackson and CJ Spiller on the field together? That question may not be answered during the preseason contests as the coaches may wait for the opener to show that look. Another interesting development to watch for which could have some fantasy football impact is goaline reps for Tashard Choice. He was featured in goaline packages during the scrimmage and if used that way during the season Fred Jackson and CJ Spiller owners will not be happy.
On defense, questions arise everywhere and it will great to see some of them can be answered during these preseason games. Can Jerry Hughes make the best of his second chance? Will Alex Carrington continue to improve? Can Torell Troup stay healthy and contribute? Can Stephon Gilmore take the next step in his sophomore season? Will Leodis McKelvin find some consistency to his game that will be needed to be an every down player? Will Jairus Byrd return? How can Da'Norris Searcy perform in Byrds absence? How will Aaron Williams adapt to his new position? Is Kiko Alonzo going to be a dominant MLB at the pro level? Will Mario Williams be Super Mario? Can Marcel Dareus pick up his game to the level he played at during his rookie season or even above? The preseason will not completely answer all of the questions but it will certainly give us a glimpse.
It is an exciting time of year and I cannot wait for that first snap of live game action. Let the journey of the 2013 Buffalo Bills begin!