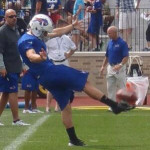 1. As a punter, do you ever talk trash? Who's the biggest trash talking punter you've ever come across? (@RealColinKemble)
I personally have never been a big trash talker. I'd rather let my play do the talking. But I know a few guys that won't shy away from starting some trash talking or taking it to the next level!
2. What type of cleats do you where Mercurials? F50s? (@mark_wigan1)
For cleats I actually found some awesome cleats in 2009 — bought a few pairs and still wearing them. They are Mercurials with lace covers; I don't think they make them anymore though.
3. Have you ever taken a hard hit, or been blindsided during or right after a kick? (@buff_ny)
In college there was a field goal that got blocked and I went for the tip and got cleaned up by a linebacker. Gotta keep that head on a swivel!
4. Doug Marrone has stressed versatility in his players, I see that you had two tackles as a DB in the CIF III Division Title game. Do you think this will give you and edge in making this team and perhaps can we expect to see you fill in at corner in a game or two? (@The_ArenA45)
I can't say that I would ever be used on defense. We have some pretty phenomenal play makers on defense already.
5. The word is Trujillos Taco Shop on the SDSU campus has the best burritos on earth, first is this true? Secondly have you had a chance to visit any or our local restaurants and do you have any favorites? (@The_ArenA45)
Trujillos is definitely the staple of anyone at SDSU. Yes, I have gotten around to trying a few places around Buffalo and have loved the amazing food, especially the wings.