During the season, Jesse Sythe provides his own "Arbitrary, Reactionary Power Rankings" to BillsMafia.com's readers every week. Since there aren't really any games being played at this point, he'll be previewing each division in the league until the season kicks off in September.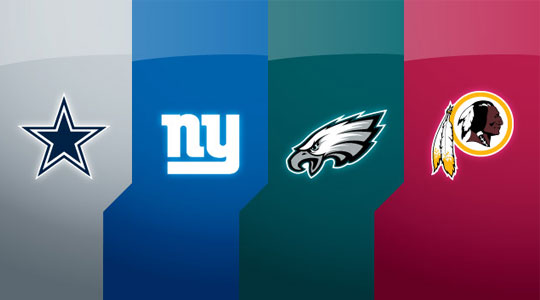 While we're all Bills fans on here, I'd also call myself a fan of football in general. When I'm not watching the Bills (with a beer in my hand, my heart in my throat, and a SHOUT at my lips), I love watching the other 31 teams battle it out and compete for the ultimate prize: The Lombardi Trophy. So I figured I'd do previews of each division as we build towards opening day against the Patriots (which I will be attending, by the way). As they say, know your enemy.
To kick off my previews of each NFL division for 2013, I figured the NFC East wasn't a bad place to start. In recent years, the NFC East has been one of the most exciting and contentious divisions in the NFL. Since 2005, no team in that division has repeated as division champs the following year, and all four teams have managed to win the division at least once in that time (with Washington finally getting their first division championship since 1999 last year). It seems to be a given that the winner of the NFC East likely won't be determined until Week 17.
Looking at the schedule, this division has a tough road to travel. Besides playing their 6 divisional games, these four teams will face the NFC North and the AFC West. The NFC North is particularly tough, since all four teams in that division (Packers, Bears, Vikings, and Lions) are possible playoff contenders. The AFC West is a little less daunting, but no one wants to face the Broncos, and the Chiefs look particularly poised to shock some teams this year. In addition, each NFC East team will play two unique games, one team from the NFC West and one from the NFC South (based on divisional rank from 2012).
Without further ado, here are my thoughts on the NFC East.
Washington
2012 Record: 10-6 (1st in NFC East)
League Rankings:
Passing Offense: 20th
Rushing Offense: 1st
Passing Defense: 30th
Rushing Defense: 5th
Key Additions:  WR Donte Stallworth, WR Devery Henderson
Key Losses:  TE Chris Cooley
Their Season Depends On: RG3's health, making the passing game work, stopping the pass on defense.
We see it every day in the media: Will Robert Griffin III be ready for Week 1? I think the more important question is this: Will he make it through 16 games? Based on the talk from Washington, that's the question they care about most. Word is that they'd like to see Griffin boost his passing numbers and run less, which it appears he's capable of. If he can stick to that mentality (which is difficult to do for someone so damn fast), he may last all season. If RG3 can't stay healthy, though, Washington is in trouble. Admittedly, Kirk Cousins appears to be an excellent backup, but he won't look so great over a span of several games as defenses start game-planning for HIM, rather than for Griffin. RG3 is not easily replaced, and he won't be surprising anyone this year.
To help RG3 transition to more pocket passing, the Washington front office added loads of experience at WR. Donte Stallworth and Devery Henderson join Pierre Garcon and Santana Moss to give RG3 one of the deepest groups of receivers in the league. While there isn't a true #1 receiver among them, the threat of the top rushing team in the league (led by Alfred Morris and RG3 himself), will give those receivers plenty of room to make plays.
Credit is due to Washington for having an excellent ground game on both sides of the ball. That 5th ranked rushing defense, however, was paired with the 30th ranked passing defense. Unfortunately for Washington, not much changed on defense this year. They managed to keep their good players (including holding on to CB DeAngelo Hall for one more year), but they didn't really add anyone other than rookies. If CB David Amerson and S Phillip Thomas can rise to the challenge, maybe Washington can improve on last year's passing defense, but it's a lot to ask. One thing that really helped Wsahington survive that atrocious passing defense was their +17 turnover ratio (3rd in the league). Unless they can repeat that performance, Washington won't be able to overcome a porous defense again.
Prediction: Honestly, Washington hasn't seen much change this year. Almost all of the starters from last year are returning, which SHOULD be a good thing for a team that made the playoffs in 2012. Unfortunately, a lot of Washington's success came from their ability to shock defenses. No one knew how explosive RG3 would be, and no one saw Alfred Morris putting up 1600+ yards on the ground. Teams won't be caught unawares this time, and they will do everything they can to make RG3 have to win with his arm, not his legs. Granted, that plan could backfire given the level of talent Griffin has already displayed, but I still think Washington takes a step back this year. With the Broncos and 49ers on their schedule, I'm seeing Washington at 9-7, 2nd in the NFC East.
New York Giants
2012 Record: 9-7 (2nd in NFC East)
League Rankings:
Passing Offense: 12th
Rushing Offense: 14th
Passing Defense: 28th
Rushing Defense: 25th
Key Additions: LB Dan Connor, DT Mike Patterson, TE Brandon Myers
Key Losses: RB Ahmad Bradshaw, DT Chris Canty, LB Michael Boley, DE Osi Umenyiora
Their Season Depends On: Eli Manning's consistency, the ability to utilize David Wilson and Andre Brown, and a return to glory for the Giants Defensive Line.
Looking at the stats sheet, Eli Manning had a decent year. Almost 4000 yards passing, 26 TD, 15 INT (which is one fewer than the previous year), and only 4 fumbles (a career low for a 16 game season). Unfortunately for the Giants, Eli was very streaky last year, and his mistakes would often come all at once, and at the worst possible times. As a result, the Giants offense would look like a powerhouse one week, only to look like an absolute mess the next. Some of that is just bad luck. Some of that is on Eli. Eli has most of his favorite targets returning, including Victor Cruz and Hakeem Nicks. If Eli can keep himself consistent this year, the Giants will improve.
With Ahmad Bradshaw gone, it's up to last year's backup RBs to carry the load. Much has been made of David Wilson as the incumbent starter, though we don't have a lot of film to go on (358 yards, 4 TD, 5.0 yds/rush in 2012). His outside running will be complemented, however, by downhill runner Andre Brown. He had similar stats last year, before his season ended to injury: 385 yards on 73 attempts (5.3 average), and 8 TD. That means 11% of his runs were touchdowns. Compare that to Arian Foster's 4.3% or Adrian Peterson's 3.4%. Andre Brown is a true Red Zone back and he should be used like one. If that duo is used correctly, the Giants could eat up yards on the ground and really help out Eli.
Perry Fewell (former DC and interim HC of our Bills) is a good Defensive Coordinator. Unfortunately for him, last year was one of his worst. The Giants were near the bottom of the league in defense, and if Fewell doesn't turn things around then he may not be working for the Giants next year. The key is going to be getting his Defensive Line scary again. Justin Tuck, Jason Pierre-Paul, and Mathias Kiwanuka are joined by rookies Johnathan Hankins and Damontre Moore in an effort to do just that. JPP specifically needs to return to glory, having a 6.5 sack season in 2012 after posting 16.5 in 2011. If that line can strike fear into the hearts of QBs again, it will also help DBs like Prince Amukamara look much better in defending the pass.
Prediction: Even with a tough schedule (they get the Panthers and Seahawks), I see the Giants improving this year. In 2012, the Giants lost 4 games by one score, three of them divisional games. The ball just wasn't bouncing their way last year, but 2013 could see more consistency, which could let the Giants steal the division back from Washington. I say 10-6, 1st in the division.
Dallas Cowboys
2012 Record: 8-8 (3rd in NFC East)
League Rankings:
Passing Offense – 3rd
Rushing Offense – 31st
Passing Defense – 19th
Rushing Defense – 22nd
Key Additions: C Travis Frederick, TE Gavin Escobar, S Will Allen
Key Losses: S Gerald Sensabaugh, WR Kevin Ogletree, RB Felix Jones
Their Season Depends On: Tony Romo minimizing mistakes, DeMarco Murray staying healthy and productive, and DeMarcus Ware stepping up.
It says something when two of your team's three biggest roster additions are rookies (Frederick and Escobar). Jerry Jones and Jason Garrett seem really high on their first round pick at Center, Travis Frederick, and they're hoping a good anchor on their O-Line will be the key to kicking their rushing attack into high gear. Being the second worst team in rushing doesn't get you to the postseason, and last year proved that Tony Romo can't simply carry his team. While he enjoyed his best year ever in passing yards, almost breaking the 5k mark, his 28 TDs were offset by his 19 INTs (up from 10 INTs in 2011). With no run game, Romo was forced to make a lot of risky throws to try to win games, which led to plenty of opportunities to choke. I honestly think Tony Romo is a good quarterback. Not great, but definitely in the top half of the league. He also has weapons to throw to, like Dez Bryant, Jason Witten, and the now-healthy Miles Austin. They're also hoping rookie TE Gavin Escobar will give them another weapon to play opposite of Witten in double TE sets.
The idea in Dallas for 2013 is that DeMarco Murray just needs better blockers in front of him, and they feel they've solved that problem. Murray's 663 yards in the 10 games he played in were ok (4.1 yards per carry), but if he's not playing at least 14 games this season then the revamped O-Line won't really matter much. With the loss of Felix Jones, their backup RB is rookie Joseph Randle from Oklahoma State. If, however, their plan works and DeMarco Murray returns to the explosiveness he displayed in 2011, the Cowboys might see some success.
There is, however, the other side of the ball to consider. The Cowboys didn't really impress anyone last season with their defense, and even the team's best player (DeMarcus Ware) took a step back. Yes, I'm calling DeMarcus Ware's 2012 Pro Bowl season a step back. First, he went from a phenomenal 19.5 sacks in 2011 to 11.5 in 2012. Still pretty good. Throw in five forced fumbles, and that's definitely a Pro Bowl season. The big drop-off for Ware, however, was in his tackles. For his entire 8 year career, Ware never had fewer than 45 tackles, and often had significantly more… until last year when he only posted 33. While Ware is still being used effectively in the pass-rush, he hasn't been as useful where the Cowboys really need him: Stopping the run. Granted, a lot of the blame for this can be placed at the feet of ex-Defensive Coordinator Rob Ryan and his playcalling. The Cowboys have brought in Monte Kiffin to replace him, hoping that a fresh look at defense will correct their recent woes on that side of the ball.
Prediction: I just don't think enough has been done in Dallas for them to improve. Their problems with the run game are especially glaring, and health has always been an issue across the board. With their unique games against the Rams and the Saints (both looking better than last year) they finish the year 7-9, still 3rd in NFC East.
Philadelphia Eagles
2012 Record: 4-12 (4th in NFC East)
League Rankings:
Passing Offense: 13th
Rushing Offense: 13th
Passing Defense: 9th
Rushing Defense: 23rd
Key Additions: LB Connor Barwin, S Patrick Chung, NT Isaac Sopoaga
Key Losses: CB Nnamdi Asomugha, CB Dominique Rodgers-Cromartie, DT Cullen Jenkins, TE Brent Celek
Their Season Depends On: QB performance/protection, Chip Kelly using his stars on offense, and the new-look defense coming together quickly.
Let's face it: The QB situation in Philly is undesirable at best. Both Michael Vick and Nick Foles are serviceable QBs, but neither blew anyone away last year. Someone needs to step up and be the unquestioned starter, whoever that may be. A big part of the Eagles' QB success, however, will be protection. Last year the Philly QBs were sacked 48 times combined, and they only managed 18 passing touchdowns because of it. They brought in top draft pick Lane Johnson to address their issues on O-Line, but Jason Peters' health is in question, leaving big shoes to fill. There needs to be a significant boost in the performance of that line for any Eagles QB to play well.
Based on what we've seen from Chip Kelly, his offense will likely be productive. One big question will be if his players can keep up with his ambitious schemes. Another question is if the Eagles will actually use their star players appropriately this year. Amazingly, 2012 didn't see a 1000-yard receiver OR rusher for the Eagles. WR Jeremy Maclin managed 857 yards and 7 TD. RB LeSean McCoy (arguably the best player on the team) only ran for 840 yards and 2 TD. There are merits to spreading around the ball, but one of the keys to success in football is to give the ball to your best players and let them do what they do. If Chip Kelly is willing to use his best players appropriately, Shady McCoy could be huge in fantasy this year.
Philly's defense this year is almost brand new. A big part of the Eagles' stellar pass defense in 2012 was the high-priced duo of Rodgers-Cromartie and Asomugha. Both players are now gone, and they really don't seem to have been replaced by anyone who comes close to their level of skill and talent. There is one significant improvement to the Eagles defense, however, in the form of Connor Barwin. Now the Eagles have a legitimate playmaker to anchor their defense. That will definitely translate to better performance against the run (something the Eagles sorely needed). In their scramble to address the run, however, the Eagles front office seems to have let pass defense fall by the wayside. Barring a sudden and miraculous breakout year for multiple players, QBs will likely enjoy an easier time against the Eagles this year.
Prediction: There is still SO much wrong with this team, and a rookie OT and a veteran LB only begin to address it. Losing their best defensive backs sure didn't help either. Chip Kelly will likely help the Eagles move in the right direction in time, but the deck seems stacked against him for now. That injury to Jeremy Maclin (out for the season) comes at a terrible time. Even with their softer schedule, which includes the Bucs and the Cardinals, I'm guessing another disappointing year for the Eagles at 4-12 again, last in their division.