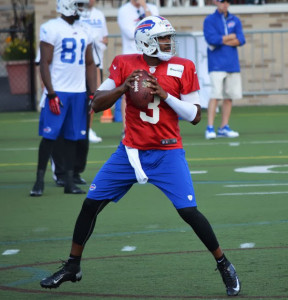 The Boy Scouts emphasize learning by doing, which is an approach the Bills should remember when cultivating their trustworthy, loyal, and helpful quarterback of the future. E.J. Manuel is an upstanding young man even if he never pursued an Eagle Scout rank, and he should get the chance to be prepared to play immediately. Training camp will ideally allow him to seize the chance to start from the start instead of waiting for a veteran to no longer be middling enough.
The enticing possibility of Manuel taking this year's initial snap is based on the notion that everyone should be able to earn playing time regardless of when their last semester concluded. Rookies should be allowed to earn their checks on the field if they demonstrate the ability to transition easily.
Broadly, anyone on an NFL roster should feel that they are free to win any starting role, and not just due to the impossibly glorious prospect of Tim Tebow beating out Tom Brady. More importantly, keeping your Star Wars guys in mint condition means you don't get to have adventures exploring the scale-sized galaxy in your backyard with Han and Chewbacca. Shielding first-year quarterbacks from snaps as a matter of policy is an unnecessary precaution relying on the assumption that looking is a better teacher than action. An unwillingness to take a risk reeks of Dave Wannstedt, and the Bills should dispose of every philosophical tendency to engage in tentativeness.
Manuel and the Bills Mafia can both feel heartened that he's a rookie entering the era where quarterbacks with an identical utter lack of pro experience can capably start. We can dream he'll play from the first Sunday not just because Robert Griffin III was able to excel from his first game with his NFL team. The now-relatively common occurrence of rookie starters is a generally positive sign for Manuel even if his specific situation isn't perfectly identical.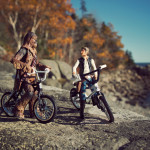 Bills fans can hope their team participates in the age of spectacular quarterbacks who still get carded for beer. Each rookie quarterback should be seen as an individual while remembering they should all get the chance to display their aptitude. Manuel has conducted himself with poise both before and since being drafted, and there's no reason to look forward to giving his skills a season-long break.
Manuel would undoubtedly face rough patches early in his career's initial phase, which would give him something in common with virtually every quarterback ever. The only way to get through early-career jitters is by playing, whether that begins September 8, Week 13, or 2014's opening game. Get them out of the way now. Besides, occasional struggles shouldn't ruin him, as nobody in this league should be that delicate. The Bills could start 3-5 with Manuel and still feel hopeful about this franchise's direction, which is an advantage not offered by the team's more experienced signal-caller.
Starting the season in gear shouldn't be an automatic for Manuel. But the open competition shouldn't be a mere attempt to humor his agent and relatives. It's not a matter of rooting against the veteran: fans are entirely capable of cheering for one quarterback to win the job and still cheer for whoever prevails to lead the Bills. But they can still rally now behind the option with less mileage and baggage.
The race under center should of course be a matter of the rookie's proficiency. Manuel could struggle enough in the preseason with sensing pressure or acclimating to the pro's game speed to keep from reaching the depth chart's apex. But the coaching staff should rid itself of antiquated notions that clipboard duty now will necessarily help Manuel succeed later.
Manuel should be rewarded if he spends camp displaying the generalship and sniper rifle of an arm that got him drafted at the edge of the first round's top half. Accounts from training camp maintain that he has shown promise while splitting snaps; he's giving coaches a reason for more chances to flaunt his accuracy by camp's end if they're bold enough. Bills fans wouldn't have to travel to Epcot Center to see the future in the present: the man who will hopefully lead the offense until his son, E.J. III, is ready to take over shouldn't be made to wait as a matter of protocol.
Deploying the key to this squad's potential in real time would be nearly as exciting as the quarterback with the greatest upside getting to work. Best of all, anything Manuel gets will have been earned.