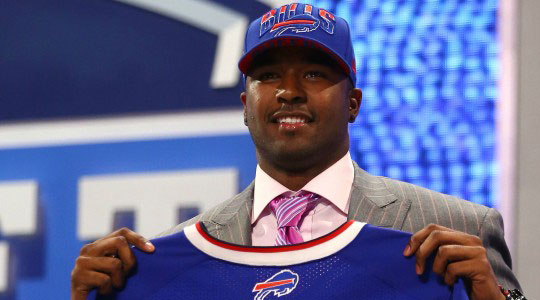 For the first time in nine years the Buffalo Bills used their first round selection, 17th overall, after a trade down, on a quarterback. EJ Manuel was selected out of Florida State and just happened to be the first quarterback selected this past year. Manuel enters his first NFL training camp vying for the starting role against veteran Kevin Kolb. Kolb was signed this offseason as a possible bridge to keep the team competitive and provide time for Manuel to develop if needed. As of now, Kolb is penciled in to start week one, but in reality he shouldn't. There is no question Manuel should be the starter now and for the future based on a number of precursors.
First off, it's Manuel physical skills that start to paint this picture. As a quarterback he possess the prototypical size, athletic ability, and a cannon for an arm that impressed former head coach and current Monday Night Football commentator Jon Gruden in his pre draft television special. The other thing is that Manuel was a two year starter as a Seminole so he has that extension experience of leading a program under his belt. Bill Polian stated his preference in quarterbacks with more than two years of starting experience citing that those players typically have a smaller learning curve and are less of a risk than one year wonders.
The second factor that further separates Manuel from Kolb is the tape. In his career at Florida State Manuel completed over 66% of his passes for 8.6 yards per completion and averaged 179.9 yards per game. These averages are better than what Kolb has been able to muster in his pro career averaging 59.5%, 6.9 ypc, and 153 ypg. The biggest stat out of that in Manuel's favor is his completion percentage. His ability to get the ball through a window, and into a spot where the receiver can catch it, is the upmost important thing a quarterback can do and is difficult to teach. Inaccurate quarterbacks cause turnovers and stalled drives. Strong arms impress scouts, but that ability to give your receiver a chance is the first skill needed for a successful quarterback.
The addition of Manuel's strong arm and namely his ability to throw downfield further helps his case. As noted in a previous post, new head coach Doug Marrone's offensive passing game focuses on stretching the defense downfield, which opens up the intermediate throws that are in reality the target lanes in this offense. Marrone's Syracuse team last year averaged 8 yards a completion and Manuel's average of 8.6 would be in line with what will be needed from him. Kolb has had deep receivers available to him both in Philadelphia and Arizona, but health has been an issue. If Kolb shows that he is gun shy when facing a blitz in minicamp it will further hinder his chance to start week one.
The reality in all of this is that Marrone is going to let Kolb get the bulk of the first team snaps when camp opens up as both a nod to the veteran, and to the other veteran players, as a way to show that the Bills are not throwing away the season. If Manuel can come in and show he is at least as good as Kolb, which he is, his talent will shine through and impress the veterans. If this happens, then Manuel will have truly earned the respect from his fellow teammates, while earning the starting quarterback position in the process.
Word spread quickly after the Bills selected Manuel of a bad weather showcase that sold the team's top brass on him. Now he enters camp in a position to show that they made the right decision.