The new-look Buffalo Bills concluded their 10 Organized Team Activities (which are voluntary) and thanks to BuffaloBills.com's Lead Journalist Chris Brown, fans were able to stay up-to-date with the various happenings during the two weeks of practices.
Throughout the next week or so, BillsMafia.com will be taking a look at some of the things that stood out during the OTAs which will hopefully give fans some ideas of personnel groupings, emerging players and scheme installation for July 26, when training camp rolls around.
When Mike Pettine was hired as the Buffalo Bills' defensive coordinator, he elaborated that the team would be multiple in their defensive formations and coverages. Pettine explained that due to the growing popularity of the aerial passing attack, the team would be utilizing a "nickel" base defense.
"The way the league is trending with the spread offenses, you're in nickel defense, you're in sub defense more than you are in base anyway. I think it's getting to the point where your third-down defense is almost your base. We'll be as multiple in third down as we are in early downs. Offenses are too good to sit in one front and be categorized as a 3-4 or 4-3."
What is the Nickel Defense?
When you hear about defensive fronts, the most common terms you'll hear are 4-3 or 3-4. However, in the nickel package, a player from the front seven (a linebacker or defensive lineman) is substituted out for a defensive back (a cornerback or safety).
Why The Nickel Defense?
When you look at the growing emphasis on the passing game in the National Football League over the past several years, it's quite simple to see why using a quicker cornerback or safety against a wide receiver or tight end instead of a linebacker can put a defense at a competitive advantage.
However, there are countless variations of nickel packages, and the Bills have dedicated the offseason to adding talented, versatile and athletic players that can play a cornerback/safety, linebacker/safety, and defensive end/outside linebacker.
This versatility will allow Coach Pettine to put the best players on the field and make sure that the defense is ready for whatever an offense will throw at them.
What Different Packages Has Pettine Used In the Past?
During his tenure with the New York Jets, Pettine's defenses were constantly changing formations. According to ProFootballFocus.com, the team operated out of a 1-3-7 defensive front on 16% of their 2011 defensive snaps. To put this in perspective, only two other teams ran that formation, both just 1% of their snaps.
Pettine's two most common nickel formations were the 2-4-5 and the 3-3-5. This is where his favorite term "multiplicity" comes into play.
This play against our own Buffalo Bills, at first glance, it appears to be typical 4-2-5 nickel front.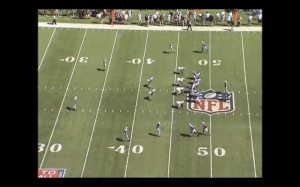 However, when you look closer, it's really a 2-4-5 front. Defensive end Muhammed Wilkerson is playing the one-technique defensive tackle position (inside shoulder of the left guard) and nose tackle Sione Pouha is commanding the three technique (over the right guard). The two "defensive ends" are really outside linebackers Bryan Thomas and Calvin Pace.
In the Buffalo Bills defense, this formation would likely see Marcell Dareus and Kyle Williams at the one and three technique defensive tackle spots, with Mario Williams and either Manny Lawson or Jerry Hughes as the outside linebackers.
Which Positions Do You Sub/ Which Players Fit Those Roles?
Team's that utilize 3-4 personnel rarely ask their outside linebackers to drop into coverage, which is why the nickel defense is becoming essential to cover the athletic tight ends and speedy slot receivers that are becoming ever so prevalent in the National Football League.
Typically, if a team is going to a nickel defense they are expecting a pass. But with the emergence of more up-tempo, no huddle offenses, coaches need to be smart with who they put on the field.
Against a team that generally uses only one tight end and three wide receivers, a team would put a smaller, quick cornerback or safety to cover the slot receiver.
Against teams like the New England Patriots, the Indianapolis Colts, the San Francisco 49ers, among others, that utilize two tight end sets with two wide receivers, coaches would be wise to insert a hybrid safety/linebacker, in what's generally called a "Big Nickel" package.
This is where versatile players like Bryan Scott come into play. A veteran with experience at both strong safety and outside linebacker, Scott has the combination of skills, size and athleticism to match up with tight ends as the bigger defensive back.
Pat Kirwan explained the "Big Nickel" in a post with CBSSports.com, stating,
"I asked a number of defensive coaches about Big Nickel, when an extra safety is brought in to the game for a front seven player. The first thing I always hear is, "You gotta have the right kind of hybrid safety to do it right." The Big Nickel safety has to be able to play as a linebacker when the offense condenses the set, and of course, he has to match up on a flexed tight end when they spread out the formation.

Play base personnel with a front seven and four defensive backs and they spread you out in a four-wide look. Play nickel defense with an extra cornerback subbing for a linebacker in the front seven, and they condense the set and run right at you. It's a problem, and defenses are studying the Big Nickel concept for an answer."
Ideally, you want your nickel defender to play the pass and the run equally well, but depending on the game situation, there's exceptions for which style of player to insert.
Regardless of talent and experience, the new Bills' front office and coaching staff have managed to add players that can fit at a variety of roles and positions within the new defense, which should make the concept of a base nickel front a bit simpler to install.