Upon the arrival of new head coach Doug Marrone, offensive coordinator Nathaniel Hackett and defensive coordinator Mike Pettine, there has been a total overhaul of the Buffalo Bills' roster.
Key Personnel Losses
QB Ryan Fitzpatrick (Released)
QB Tyler Thigpen (Free Agent)
RB Tashard Choice (Free Agent)
FB Corey McIntyre (Free Agent)
WR David Nelson (Not Tendered as RFA)
WR Donald Jones (Not Tendered as RFA)
LG Andy Levitre (Free Agent)
OG Chad Rinehart (Free Agent)
DE Kyle Moore (Free Agent)
DE Shawne Merriman (Retired)
DE Chris Kelsay (Retired)
LB Nick Barnett (Released)
CB Terrence McGee (Released)
S George Wilson (Released)
Key Personnel Additions
QB Tarvaris Jackson (Re-signed)
FB/TE Dorin Dickerson (Tendered as RFA)
LB Manny Lawson (Signed as UFA)
LB/S Bryan Scott (Re-signed as UFA)
CB Leodis McKelvin (Re-signed as UFA)
FS Jairus Byrd (Franchise Tagged)
That's a rough list to look at, but General Manager Buddy Nix has said there's still some moves to be made.
"You have to plug holes in free agency, and that'll continue for the rest of the spring," said Nix. "There'll be guys available and there'll be guys that'll fit, and we'll plug them in."
Regardless of any potential free agency moves, the Bills do have the pieces in place to become contenders if they can add the final pieces to the puzzle.
Here at BillsMafia.com, I decided to do a thorough breakdown of the Bills' depth chart prior to the draft.
Quarterback
No. 1 Tarvaris Jackson, 29 years old
When the Bills opted to re-sign quarterback Tarvaris Jackson, all signs pointed to the end of the "Fitzmagic" era in Orchard Park. Sure enough, Ryan Fitzpatrick was released prior to the commencement of free agency, leaving a major void at the quarterback position.
While Jackson likely won't be the Bills' starting quarterback when the season starts, he's No. 1 on the depth chart, and according to Coach Marrone, will have every opportunity to earn a starting role. Jackson has had an up and down career, ever since being selected in the second round of the 2006 NFL Draft by the Minnesota Vikings. He played spot duty, competing with Sage Rosenfels and eventually Brett Favre, before finding a home with the Seattle Seahawks in 2011.
In 2011, Jackson completed 60.2 percent of his passes for 3,091 yards, tossing 14 touchdowns and 13 interceptions.
After seven years in the league, it's clear that Jackson is a career backup that has the ability to start on spot duty, which is why it was a wise decision to keep him around another year.
No. 2 Aaron Corp, 24 years old
This is the second time the Bills have brought in the once highly-recruited quarterback of USC. Corp was initially Mark Sanchez' backup with hopes of starting the following season. However, freshman quarterback Matt Barkley beat him out for the starting role, forcing Corp to transfer to Richmond. Corp went undrafted and is probably nothing more than a camp body or a practice squad candidate at this point in his career.
Positional Outlook
Finding a franchise signal caller in the 2013 NFL Draft is and should be the primary goal of the Buffalo Bills' offseason. While there aren't any Andrew Luck's or RG3's in this years' class, there certainly are some that will succeed in the right situation. When the Bills come to a conclusion on just which player that is, he will be the starting quarterback in 2013.
Running Back
No. 1 C.J. Spiller, 25 years old
When the Bills selected Clemson running back C.J. Spiller with the No. 9 overall pick in the 2010 NFL Draft, fans nearly revolted. However, since the second half of the 2011 season through the end of 2012, Spiller has proven to be one of the most electrifying running backs in the National Football League.
In 2012, Spiller rushed for 1,244 yards and six touchdowns on just 207 carries, averaging an astonishing six yards-per-carry, while adding another 459 yards and two scores as a receiver. Spiller will enter the 2013 season as the starting running back. With Coach Marrone's tendency to run the ball, coupled with his usage of Reggie Bush in New Orleans, Spiller's 2013 campaign should be one for the ages.
No. 2 Fred Jackson, 32 years old
Fred Jackson was on pace to be one of the most productive rushers in 2011, gaining 934 yards and six touchdowns in just 10 games before suffering a season-ending injury. In 2012, Jackson just didn't seem like himself. It was visually evident that he wasn't the same player as he was during the previous year. In 2012, he suffered two leg injuries, and averaged just 3.8 yards per carry, while fumbling five times.
Jackson is in the final year of a two-year deal he was awarded following the 2011 season, but the Bills need to find a running back capable of complementing Spiller in 3rd and short and goal-line situations.
No. 3 Zach Brown, 24 years old
The Bills brought in Zach Brown as an undrafted free agent in 2012, but he failed to step on the field. While there isn't much expected from the former Pitt running back, his 5'10" 220 frame could be an interesting player to watch in training camp.
Positional Outlook
The Bills have an elite running back in C.J. Spiller, but with Fred Jackson aging and little depth behind him, the team may have to address the position following the draft. Jackson clearly is on his last legs, and while finding his replacement isn't an immediate need, a complementary back will be coveted within the next year or so.
Wide Receiver
No. 1 Stevie Johnson, 26 years old
Stevie Johnson has been Ryan Fitzpatrick's go-to guy over the past three seasons, as he's hauled in 237 passes for 3,123 yards, scoring 23 touchdowns over that span. A truly unique player, Johnson has the strength and ball-skills to play as an outside receiver, along with the athleticism and route-running ability to play in the slot.
Johnson signed through 2016, so the Bills' wide receiving corps will be built around players that complement his skill set.
No. 2 T.J. Graham, 23 years old
The Bills selected T.J. Graham in the third round of the 2012 NFL Draft with the hopes of adding a deep threat receiver to the offense. However, due to Graham's raw route-running and questionable hands, he didn't have the year many were expecting. Graham caught 31 passes for 322 yards and a score, but with a strong-armed quarterback under center, he should be able to improve on his dismal rookie campaign.
No. 3 Brad Smith, 29 years old
Brad Smith was signed to a three-year deal prior to the 2011 season, and his role was expected to be a kick returner and a wildcat quarterback that could serve as a wideout. However, former head coach Chan Gailey couldn't find a way to get Smith on the field enough. In 2012, smith rushed 14 times for 116 yards and a touchdown, while grabbing 14 passes for 152 yards and two scores as a receiver.
No. 4 Marcus Easley, 27 years old
Marcus Easley hasn't seen the field since he was drafted in the fourth round of the 2010 NFL Draft. Easley dealt with multiple injuries and medical conditions, but fits the height/weight/speed requirements of the prototypical wide receivers in the National Football League. The fact that he's still on the roster at this point signals to me that the new coaching staff will give him every opportunity to succeed.
No. 5/6 Kevin Elliot, Chris Hogan
Both Kevin Elliot and Chris Hogan were brought in towards the end of the 2012 season, and it appears that Elliot may have a role with the team. The Bills signed Elliot to a two-year deal, and he should compete for a roster spot.
Positional Outlook
Outside of Stevie Johnson, the Bills' group of wide receivers is filled with potential and question marks. Buddy Nix has made it clear that he intends on adding a big-bodied receiver at some point in the offseason. After Dwayne Bowe (the most likely Bills' free agent target) came off the market, all signs are pointing to the team addressing the position early in April's draft.
Tight End
No. 1 Scott Chandler, 27 years old
Scott Chandler isn't going to blow anybody away with his athleticism, but he has been a consistent and reliable security blanket for Ryan Fitzpatrick over the past two seasons. In those two seasons, Chandler has caught 81 passes for 960 yards and 12 scores.
Chandler had improved in each of his two seasons with the team, before suffering a torn ACL in a Week 16 matchup against the Miami Dolphins. The timetable for his return is unclear and his status provides a major question mark at the position.
No. 2 Lee Smith, 25 years old
Lee Smith isn't going to be a receiving threat anytime soon, but he's been one of more underrated blocking tight ends in the National Football league. According to ProFootballFocus, Smith was the NFL's 7th best pass blocking tight end in 2012, allowing just two quarterback pressures in 294 snaps. He's an average run blocker, and is a solid No. 3 tight end to keep around in goal-line situations.
No. 3/4 Mike Caussin, Joe Sawyer
Mike Caussin has been with the Bills for two seasons, but has rarely seen the field and isn't a guarantee to make the roster. Joe Sawyer was signed at season's end and is a physical specimen that will have to prove himself in training camp to be considered for a spot on the team.
Positional Outlook
The fact that the Bills have been linked to former Washington Redskins' tight end Fred Davis seems like the front office is concerned with the progress of Scott Chandler's ACL injury. Chandler is in a contract year, and Buddy Nix explained that he was looking to add youth and athleticism to the position.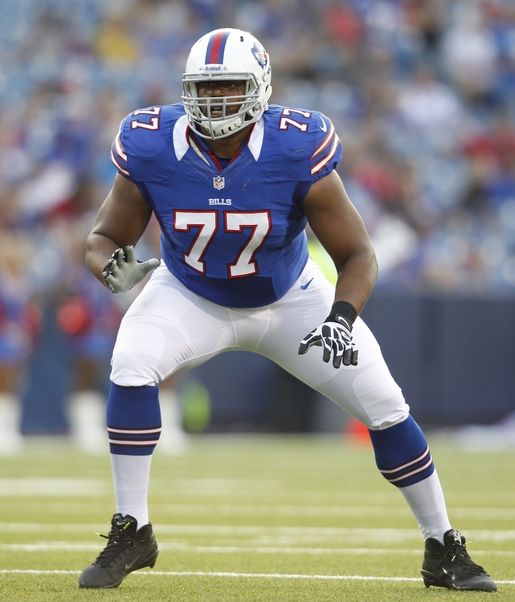 Left Tackle
No. 1 Cordy Glenn, 23 years old
Second round left tackle Cordy Glenn was one of the more scrutinized players entering the 2012 NFL Draft. His massive size led many to believe that he'd be best suited for the guard position or right tackle. However, Buddy Nix raved about his ability throughout the draft process and Glenn winded up starting 13 games at left tackle in the 2012 season.
While he wasn't outstanding by any means, he held his own, grading out as ProFootballFocus' 34th best pass protecting offensive tackle (out of 80 qualifiers) and ranked as the 21st best run blocker. Glenn showed some rookie mistakes, allowing 32 total quarterback pressures, but surely looks like he is capable of holding down the blindside for the immediate future.
No. 2/3 Thomas Welch, Adam Grant
Both Welch and Grant are likely to be training camp bodies that need to prove themselves in OTAs and Training Camps in order to earn a roster spot.
Left Guard
No. 1 Zebrie Sanders, 23 years old
While Zebrie Sanders is listed as an offensive tackle, I believe he will be the starting guard for the 2013 Buffalo Bills. A four-year starter that played 50 career games with the Florida State Seminoles, Sanders was an absolute steal in the fifth round of the 2012 NFL Draft. At 6'6" 320 pounds, Sanders powerful off the snap and his versatility to play both right and left tackle should solidify a spot on the roster.
No. 2 Colin Brown, 27 years old
Colin Brown is another big, versatile interior lineman. The 6'7" 335 pounder started two games over the past two seasons, appearing in 12. He's played center and right guard during his time with the Bills.
Center
No. 1 Eric Wood, 27 years old
Eric Wood has been one of the top performing interior offensive linemen since being drafted by the Bills in the 2009 NFL Draft. After two seasons as the team's right guard, he made a seamless transition to center, and has played as well any center in the league; when he's healthy, that is. Wood has played in 47 out of a possible 64 career games, after being victim to two freak leg injuries.
Wood is a vocal leader on the offense, and understands he needs to take control of his fellow linemates now that Andy Levitre is gone.
No. 2 David Snow, 23 years old
The Bills signed David Snow as an undrafted free agent out of the University of Texas following the 2012 NFL Draft, and it took him just 11 weeks before making his professional debut. Snow, who played 52 career games with the Longhorns, starting 32 (14 at center, five at right guard and 13 at left guard), made two starts in place of an injured Eric Wood, appearing in another three in spot duty.
Positional Outlook
Eric Wood is entering the final year of his rookie contract signed in 2009, but it's likely he will be retained, especially following the Levitre departure. When he's on the field, Wood has the potential to be a premier talent at the center position.
David Snow isn't a household name by any means, but he had four years of experience in a major college football program and provides adequate depth and versatility to be an asset to the team.
Right Guard
No. 1 Kraig Urbik, 27 years old
Kraig Urbik is one of the more underrated interior linemen in the National Football League, and has been a valuable asset to the Bills over the past two seasons. He's started 18 games, appearing in 27 and has been an excellent run blocker, while surrendering minimal pressure in the pass game. Urbik was re-signed to a multi-year contract at end of the 2012 season. He's a massive road grader, standing 6'5" and weighing 323 pounds and has the potential to improve as he's entering his prime.
No.2 Keith Williams
Positional Outlook
While the unproven undrafted free agent Keith Williams is alone behind Kraig Urbik on the Buffalo Bills' depth chart, the team utilizes players that have the ability to play multiple positions. Colin Brown, David Snow and Zebrie Sanders all have the ability to step in at either guard position and be effective.
Right Tackle
No. 1 Chris Hairston, 23 years old
The Bills selected offensive tackle Chris Hairston in the fourth round of the 2011 NFL Draft. Initially an afterthought, Hairston ended up starting seven games at left tackle during his rookie year before sliding over to right tackle in 2012. The former Clemson product (who blocked for C.J. Spiller at Clemson) started eight games at right tackle this year and was showing improvement every week, before suffering a season ending leg injury.
No. 2 Erik Pears, 30 years old
Erik Pears was signed by the Bills towards the end of the 2010 season and started every game of the 2011 season at right tackle. Pears opened the 2012 season as the starting right tackle, starting the first seven games of the year before suffering a season-ending hip injury.
No.3/4 Sam Young, Chris Scott
Positional Outlook
When Erik Pears went down, Chris Hairston stepped in and performed admirably. Pears is in the last year of his contract and Hairston has most likely taken his role as a starter. With third-string tackle Sam Young's upside, it wouldn't be a surprise if Pears became a preseason cut.