The Buffalo Bills have been surprisingly quiet during the 2013 NFL Free Agency period, so here at BillsMafia.com, we decided to do a thorough review of the team's current and future salary cap status.
All contract and salary cap details are courtesy of Spotrac.com and OverTheCap.com.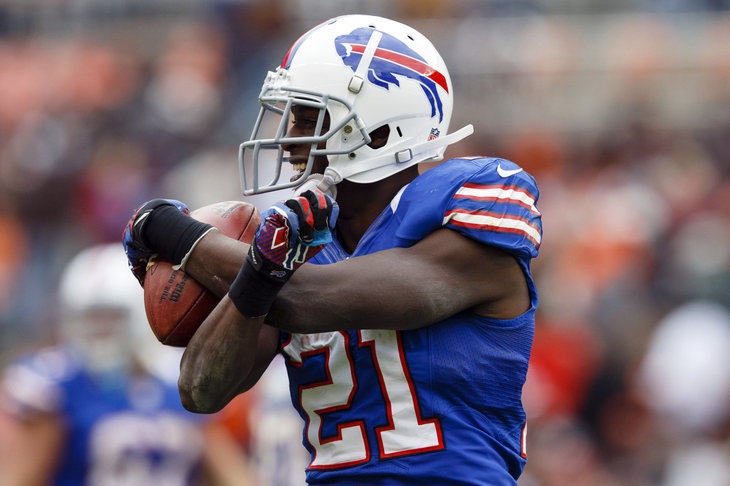 2013 Outlook
Following the releases of Nick Barnett, George Wilson and Terrence McGee, The 2013 cap number was announced as $123 million. The team carried over $9.8 million of their remaining available funds from the 2012 season, giving the Bills $132.8 million to work with.
The team currently has 60 players signed to contracts, with $54.8 million devoted to the offensive side of the ball and $57.28 million for the defense. After placing the franchise tag on Jairus Byrd and re-signing Leodis McKelvin prior to the beginning of the new league year, the Bills had roughly $18.5 million to spend once free agency commenced.
The team came to terms with linebacker Manny Lawson on a four-year, $12 million deal that will cost the team $2.4 million against the 2013 cap.
After accounting for the roughly $5.5 million necessary to sign the draft picks, the team now has $10.6 million to work with for the rest of the offseason.
While fans have been clamoring for free agent signings throughout the free agency period, the Bills have limited resources to acquire these players. There has been speculation that there will be a "flat cap" for at least the next two seasons, meaning that the salary cap won't be increasing very much.
Furthermore, I personally believe the team is more than a few free agents away from being thought of as competition for not only the playoffs, but the division crown.
With a new coaching staff, it's my personal belief that the coaches want to focus the first year on adding players that fit their system through the draft, while sorting out which players currently on the roster are suitable to stay for the long haul.
The team can always carry over whichever funds they have remaining into next season, when they have a few more high-level free agents to retain.
Who's Due For New Contracts?
Another issue that many fail to think about when worrying about extravagant spending in free agency, is that the team needs to have a comfortable sum of cap money available to retain their own talent in future seasons.
Jairus Byrd (Franchise Tag)
Free safety Jairus Byrd has developed into one of the premier defensive backs in the entire National Football League. A true ball-hawk, the former Oregon Duck has registered 18 interceptions and forced 10 fumbles since entering the league.
Byrd is just 26-years old, and could easily make an argument to become one of the highest paid safeties in the National Football League.
Byrd will earn $6.196 million in 2013 under the franchise tag, but certainly should be locked up to a long-term deal shortly. Let's take a look at the biggest safety contracts in the National Football League, and determine Byrd's value.
Eric Berry, Kansas City Chiefs (Rookie Deal, 6 years, $60 million, $34 million guaranteed)
Dashon Goldson, Tampa Bay Buccaneers (5 years, $41.25 million, $18 million guaranteed)
Eric Weddle, San Diego Chargers (5 years, $40 million, $19 million guaranteed)
Antrel Rolle, New York Giants (5 years, $37 million, $15 million guaranteed)
Troy Polamalu, Pittsburgh Steelers (4 years, $36.5 million)
Michael Griffin, Tennessee Titans (5 years, $35 million, $15 million guaranteed)
Byrd should fall in between the top three safeties (Berry, Goldson, Weddle)
Projection: 5 years, $47 million, $23 million guaranteed
Eric Wood
When healthy, Eric Wood is one of the top young pivots in the league. He's an above-average pass blocker and has a mean streak in the run game. While labeled injury-prone by many, he's been victim to some freak accidents that shouldn't really factor into contract discussions. Wood can play both center and guard which boosts his value, and the Bills would be wise to begin working on a deal during the season, before allowing him to test the market.
While he isn't close to being a top-five center in the league, he has the potential to become one of the best. I took a look at the 6th-10th highest paid centers in the National Football League to find what kind of deal Wood could be in line for.
Max Unger, Seattle Seahawks (5 years, $25.5 million, $12 million guaranteed)
Dominic Raiola, Detroit Lions (4 years, $20 million, $9 million guaranteed)
Nick Hardwick, San Diego Chargers (3 years, $13.5 million, $6.5 million guaranteed)
John Sullivan, Minnesota Vikings (6 years, $25.6 million, $10 million guaranteed)
Wood should garner a contract within this price range due to his combination of age, ability, potential and production.
Projection: 4 years, $21.5 million, $9 million guaranteed
In addition to Byrd and Wood, the Bills also have to make decisions on tight end Scott Chandler and defensive tackle Alex Carrington following the 2013 season. Chandler is dealing with an ACL injury, and his status for the season is unclear, but Buddy Nix has already stated that he's looking to add athleticism and speed to the position.
Carrington isn't going to surpass Marcell Dareus or Kyle Williams for a starting position, but he's proven to be a reliable No. 3 rotational tackle with upside.
Long-term Outlook
Assistant General Manager Doug Whaley, who is expected to overtake Buddy Nix as General Manager within the next few years, was groomed in the Pittsburgh Steelers' organization with the philosophy of building through the draft and obtaining role players through free agency.
In the salary cap era with set prices for rookie contracts, building a franchise through the draft is the true "Moneyball" approach to developing a winning football team.
The Bills have some solid young players at the nucleus of the roster (C.J. Spiller, Stevie Johnson, Cordy Glenn, Jairus Byrd, Marcell Dareus, Stephon Gilmore, Kelvin Sheppard and Nigel Bradham) to build around.
While the Bills' passive approach to the 2013 free agent period has irked many fans, the team actually seems to have a plan in place for the first time in quite a while. When a team has a productive quarterback in place, it makes up for many of the remaining holes on a respective roster. The team surely needs to add talent at key positions other than quarterback (wide receiver, linebacker, etc.), but once that signal caller is in place, the rest becomes secondary.
The Bills are limited cap-wise, and need to do what is in the best interests for the long-term, and that is not adding multiple free agents just for the sake of filling "holes."