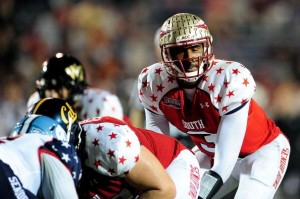 Senior Bowl week is when a lot of overlooked prospects can begin to really make a name for themselves. We saw this happen with players like Buffalo Bills' own cornerback, Stephon Gilmore, in 2012, along with players like Washington Redskins' running back Alfred Morris.
This year was no different, as fans and scouts who were going in to see their favorite collegiate stars face off against some of the greatest talent in the nation, came away reworking their positional rankings, and seeking out more tape on players they missed.
While fan favorites like Syracuse quarterback Ryan Nassib and wide receiver Terrance Williams had average weeks, these six players were studs in Mobile, Alabama, and should begin gaining serious steam from now until April.
Note: Players with high draft stock like BYU DE Ezekiel Ansah and QB Mike Glennon were left off this list.
UCLA Defensive End Datone Jones
Coming into Senior Bowl week, UCLA's star defensive lineman didn't really have a set projected position in the National Football League. Standing at 6'4" and weighing 280 pounds, many thought he was too large to play defensive end, but too small to play defensive tackle. He changed all opinions, as he absolutely dominated practices and showed he would fit perfectly as a five-technique defensive end at the next level.
While he doesn't have a plethora of pass-rushing moves, Jones utilizes his large frame to his advantage, using a dominating bull-rush to collapse the pocket. Jones was impressive during his time with the Bruins, recording 148 tackles, 27 of which came for a loss, while getting to opposing quarterbacks 13.5 times, and forcing four fumbles. With defensive coordinators in the NFL turning more and more to scheme-versatile players, Datone Jones is just the defensive lineman they will be looking at.
Florida International Safety Jonathan Cyprien
Prior to this week, the majority of casual football fans had never heard of Jonathan Cyprien. After seeing two of his games against less-talented football teams, I had him ranked as my 10th best safety entering the draft. However, Cyprien used the big stage in Mobile to his advantage. He dominated practices throughout the week, proving he could be coached up and make plays. Despite entering the 2012 season on the Jim Thorpe Watch List, the award given to the best defensive back in the nation, very little was known about the 6-foot, 208 pound safety out of South Florida.
Cyprien was a four-year starter, and racked up 365 tackles, 13.5 for a loss, picked off seven passes, deflected 22, and forced six fumbles. Cyprien went from being a mid-to-late round draft pick, to going as high as the second round. It isn't that the talent or skill set wasn't there, he just didn't have the opportunity to play against top-tier talent, and when he finally got the chance, he shined.
Kentucky Guard Larry Warford
Throughout the year, Kentucky guard, Larry Warford, has been overshadowed by Alabama guard Chance Warmack, and North Carolina guard Jonathan Cooper. However, with Warmack turning down his Senior Bowl invitation, Warford got to be the center of attention for interior lineman. A giant man at 6'3" 340 pounds, Warford proved he could provide an anchor on the offensive line, continuously shutting down the biggest man in Mobile, in Georgia's 357 pound nose tackle, John Jenkins.
Warford has been named to the Second-Team All-SEC roster for the past three seasons, and has ben a major part in Wildcat running backs averaging 4.9 yards per carry throughout the year. He's played 47 games during his collegiate career, recording 37 consecutive starts. Despite his large frame, Warford has excellent agility, and does a great job of getting to the second level on blocks. He pancakes defensive linemen with ease also. Due to the fact that guards don't generally get drafted very high, Warford will provide amazing value for whichever team selects him, most likely in the middle of round two.
Texas Wide Receiver Marquise Goodwin
Marquise Goodwin is an Olympic track star that has been criminally misused during his career with the Texas Longhorns. Goodwin proved that he could consistently beat the top cornerbacks in the nation with his speed throughout the week, and caught nearly every pass thrown his way.
At Texas, Goodwin caught just 120 passes for 1,364 yards and seven scores in four seasons, but he has incredible speed and separation skills that will make General Managers absolutely gush over him prior to the draft. With stud wideouts such as Baylor's Terrance Williams, Louisiana Tech's Quinton Patton, and Georgia's Tavarres King performing in Mobile, Goodwin separated himself from the pack.
Florida State Quarterback E.J. Manuel
Coming into Senior Bowl week, Florida State's signal caller, E.J. Manuel, probably had the most question marks of any quarterback on the roster. However, scouts and General Managers loved him at the weigh in, coming in at 6'4" 237 pounds. He also had some of the longest arms in Mobile, with a wingspan of 83 1/4'.
Manuel is seen as a nice developmental project, due to his strong arm and mobility. However, the Senior Bowl MVP performed better than any other quarterback this week, and will probably get drafted somewhere in the second round. Manuel was expected to be the next great Seminoles' quarterback when he chose Florida State over Oregon, but was sat in favor of Christian Ponder in his freshman and sophomore seasons. When he started 2011, Manuel performed admirably, completing 66.9% of his passes for 7,741 yards, throwing 47 touchdowns to 28 interceptions. He gained 827 yards on the ground and found the endzone 11 times.
Oklahoma Left Tackle Lane Johnson
Lane Johnson was one of the most impressive tackle during Senior Bowl week, and scouts were reportedly raving about him the whole time, pumping him up as a first round pick, behind Texas A&M's Luke Joeckel and Central Michigan's Eric Fisher. Prior to this week, Johnson was in a near-tie with guys like Syracuse's Justin Pugh, Alabama's D.J. Fluker, and Florida's Xavier Nixon, but he clearly separated himself from the group with his stellar play.
Johnson was a former quarterback, but was switched to defensive line and tight end, before finding a home at left tackle, where he finally caught on as a full-time pass blocker in 2011. At 6'7" 302 pounds, Johnson can add at least 20 pounds to his frame and still perform at a high level. He's very athletic for his size and he moves exceptionally well. He will likely be the third tackle taken off the board in April.