Earlier tonight we had a guest blog post by a Cardinals fan about the three coaches from Arizona who have been tied to the Bills.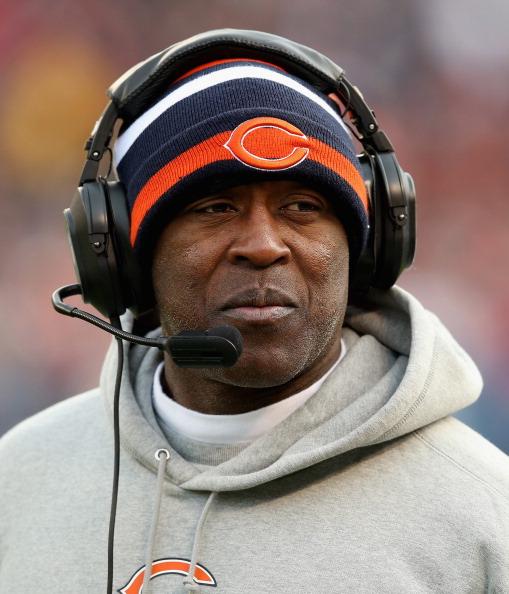 Now, we're going to look at Lovie Smith, the recently fired head coach of the Bears who has reportedly expressed interest in the Buffalo vacancy. Tonight, I reached out to two prominent Bears fans on Twitter, Erik Grogan of ChicagoFootballTalk.com and Chris Shanafelt, host of SportsManRadio on Blogtalkradio.com. Both were gracious enough to answer my questions in swift fashion.
1. There's a large contingent of Bills fans that are lobbying for Lovie Smith to come to Buffalo. Are they justified in their opinion, or crazy? Why?
Erik Grogan: They are justified. It's not crazy. Four other teams have contacted him so far and I believe more will. Before the Bears hired Lovie, the team was very mediocre and very unstable. Lovie was hired in 2004 and in only two years, the Bears were starting to become contenders and the defense had that Monster of the Midway feel that had been missing for so long. In the last nine years, Lovie Smith has only had three years below .500 and that goes unnoticed a lot of times. Especially with the lack of offenses. Lovie Smith only had one offense in the top 15 one time. That was his Super Bowl year in 2006. Other than that, the offenses have been below mediocre. However, the players will want to run through walls for this guy. Lovie will never show emotions on the field but in the locker room, he is a fiery coach. Almost every player was saddened and disappointed that Lovie Smith was fired. That doesn't happen often when a head coach is fired.
Chris Shanafelt: I'm not surprised that Bills fans want Lovie in Buffalo. Lovie has had come success here in Chicago making it to the playoffs a few times and appearing in a Super Bowl back in 2006. Lovie is a really good defensive coach. I think it's safe to say that the Bears defense wasn't expected to perform the way they did this season but it was crazy especially because of how "old" they are. We both know Buffalo has a very talented defense (DE M. Anderson, DE M. Williams, DT M. Dareus, etc.) and with the LB core you guys have with Barnett, Merriman, and Morrison, I believe Lovie can make that core even stronger. I think Lovie's best fit will be with Buffalo.
2. Lovie Smith brought the Bears to a Super Bowl with Rex Grossman, but struggled with Jay Cutler. What's your opinion on why his tenure in Chicago worked out that way?
EG: Lovie Smith is a defensive minded coach. Period. Thus, Lovie would let his offensive coaches do what they are suppose to do and that's coach. Rarely would Lovie get involved with the offense and his choices at offensive coordinator never worked out. Through his nine years at Chicago, he went through four different offensive coordinators. Four. Look at any of the great quarterbacks/offenses in the league. They have all had the same offensive scheme for years.
CS: Lovie Smith brought the Bears to a Super Bowl with Rex Grossman because that '06 Bears defense was more consistent in my opinion. Lovie doesn't have a great past when it comes to offense. His best offense was ranked 16th and that was the 2006 Super Bowl Bears. The offensive coordinators that have been in Chicago during Lovie's time haven't been too great.
3. On the whole are Bears fans glad to see Smith go? And if so, why?
EG: The main reason that most Bears fans are okay with Lovie Smith going is because of a lot of things. Lovie never really developed any real offensive weapons besides Matt Forte. In fact, a lot of draft picks seemed to go to waste and never amounted to much. When you look at Lovie Smith's draft record with the Bears, it doesn't impress you. Especially all the first round picks that have been busts. The main reason most fans wanted Lovie gone was his playoff record. Smith's playoff record was not very appealing. In nine years, he only made the postseason three times and never won a Super Bowl.
CS: Myself being a Bears fan I'm not really happy to see Lovie go after finishing the season 10-6 because he has done a lot with the Chicago Bears organization in the 9 years he has been here and when the news broke it really impacted the players. Once the news broke, Devin Hester said he was thinking about retiring after just finishing his 7th season in the NFL. Lovie wasn't only a coach for these players, he was a friend & mentor. Taught these players how to be men. Many Bears fans were happy when the news broke. I was at a local radio show called Waddle & Silvy and every week they have a Jay Cutler show and the news broke with Jay there live on the show and he was almost lost for words — it seemed like while the Bears fans were cheering. Cutler said he wishes he could have done more to help Lovie keep his job but maybe change is a good thing. Lovie is a players' coach.
4. What is Lovie's greatest strength?
EG: Lovie's greatest strength is his defenses. There was probably only a few years that the defense wasn't in the top 15 but was in the top 5 quite a few times. A lot of the games Lovie won was because the defense would win the game or set the offense up to not fail. Lovie Smith has been able to draft some good defensive players over the years. Tommie Harris, Lance Briggs, Nathan Vasher, Charles Tillman, Major Wright, Henry Melton, Corey Wootton, and Daniel Manning. There are more but those are just a few that I can name off the top of my head and Harris was the only drafted in the first round.
CS: Lovie's greatest strength is the way he coaches defense and connects with his players. No doubt.
5. His greatest weakness?
EG: Lovie Smith's greatest weakness is not just one thing. Smith's inability to get a decent offensive coordinator really hurt his tenure here at Chicago. The list of first round busts that he has drafted hurt too. Plus, during games, Lovie Smith never showed the ability to adapt or adjust. In fact, most of Lovie Smith's blowout losses are because he would never adjust his defensive game plan. To be honest, his stubbornness to start players that he loved or thought could still play also hurt his tenure. Prime example is Tommie Harris and Rex Grossman. Both players overstayed their welcome in Chicago but Lovie kept trying/hoping they would return to their prime.
CS: Lovie's greatest weakness has been the offensive staff he chooses (mainly offensive coordinator.) Like I mentioned earlier, ever since Lovie has been in Chicago his team's offense has always been in the worst half of the rankings. With the NFL being an offensive league now its hard to be successful like that and maybe that's why Lovie missed the playoffs 5 out of the last 6 seasons. I would also like to see Lovie show more emotion on the sidelines. Almost no matter what he has a stale face. I don't know what he does in the locker room, I can only judge what he does outside of it but what I see is little to no emotion.
Thanks again to Erik and Chris for taking the time to answer my questions tonight. With Lovie appearing to be the "fans' choice" in Buffalo (at least, according to my Tuesday night Twitter timeline) hopefully this information helps paint a fuller picture.