Lots of rumors, reports, and opinions are floating all over Twitter right now. Most, at this moment, are centered around Ken Whisenhunt and others from the Arizona coaching staff. I reached out to one of the tweeps I met during the week leading up to the Bills/Cardinals game earlier this season and he was more than happy to whip this up for us in short order.
Thank you, @azcardfan90, for putting this together!
If a Redbird Flies East, Which Cardinal Coach Would You Want in Buffalo?
As Black Monday passed, rumors were already swirling about a possible new landing spot in Buffalo for one of the Cardinal coaching staff but which one? With seven head coaching vacancies already, time is of the essence for teams looking to head in a new direction. Here is a basic breakdown from one Birdgang member's perspective of the possible candidates coming out the desert.
Russ Grimm
Like the other two candidates, Russ Grimm came to the Valley of the Sun highly regarded from the Pittsburgh organization. He was widely considered a favorite for many head coaching vacancies prior to accepting the OL coach position in Arizona. As a hall of famer himself, he brings instant credibility with players and built his resume on tough old school smash mouth type football in Pittsburgh.
In AZ, it was believed that he would parlay the early success they had under Whisenhunt into a head coaching position elsewhere. However, that never materialized as the things that made him so successful in Pittsburgh were non-existent in AZ at times. Even the Super Bowl year, the Cardinals never were considered much of a threat running the ball and really only had a running game at times because the passing was so effective under Kurt Warner.
After Warner's departure, the running game and offensive line play worsened… partially because of bad QB play and lack of quality lineman. This year, the Cardinals sustained numerous injuries and were starting players off the street by year's end. Although, the disappointing part is under Grimm there have been players drafted and obtained via free agency who were considered to either be veteran upgrades or rookies with potential. The players did not develop… at all. In fact, many players regressed. By mid-season of the 2012 campaign most Cardinal fans were calling for the head of Grimm as the team could not run block, pass block or keep any QB upright long enough to look downfield.
This should be the least of the three Cardinal candidates the Bills should consider. There have been many vacancies that have come and gone in recent years and I believe it to be a red flag that a once hot commodity is now unemployed off a 5-11 team.
Ken Whisenhunt
As a diehard Cardinal fan, I have mixed feelings about Ken. I LOVE and appreciate where he took us… within minutes of winning the Super Bowl, something that most Cardinal fans never thought we would see. Unfortunately, his act eventually wore thin with fans and, I believe players alike. With Ken, you get a likeable guy who is well-respected in the league and considered an up and comer still. He is a tireless professional who is a class act until the end. He STRONGLY believes in his system and his coaches, which from an assistant or players perspective is a good quality (who doesn't want a supportive boss?).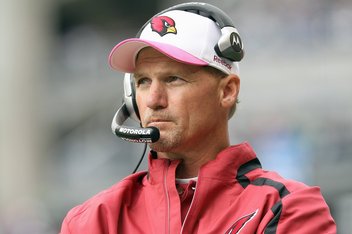 Unfortunately, I believe what limits him is his ego… and that was probably inflated even further with early success in Arizona. Once Todd Haley left as OC in AZ, he took on a greater involvement in the offense, at times calling plays. He is loyal to a fault to those who have allegiance to him, but do not get on his bad side. He is always outwardly professional but does appear to hold grudges.
He cut Matt Leinart (at the time, the expected starting QB) days before the season opener after Matt made comments to the media regarding his demotion, he fined Darnell Dockett $200,000 and held him out of the starting lineup for an old-field incident with a teammate, routinely sat players for extended periods after a bad play or fumble — and this past week even had Beanie Wells suit up but did not give him a single carry after Beanie made comments to the media regarding his future. He refused to commit to a starting QB for the majority of his time in the desert instead choosing to deal with it on a week by week basis. I believe this caused instability in the locker room and eventually maybe even caused him to lose the locker room late this season. In my opinion, after he refused to pull Ryan Lindley who was completely lost in the Jets game (a one point loss), many players stopped believing in him as evidenced by a 58-0 loss to Seattle.
Some people believe Whiz would still be the head coach in Arizona if he was just willing to adapt, adjust and, in some cases, cut ties with coaches who were not up to speed. In fact, some theorize that when he was dismissed by the Cardinals he may have been given an ultimatum to fire certain offensive coaches or be terminated himself. Obviously, if that is the case, we know what he chose. Bottom line, the offense in Arizona was broken… and Whiz did not believe his system was to blame in spite of jaw-dropping failures from that side of the ball.
In spite of all this, Whiz can be successful again in the NFL in the right situation. It would need to be in a spot where he has HC duties and the team has a well-established GM with a clear delineation of duties and strong coordinators. He tends to take on too much and thus get in over his head if allowed. He was most productive with capable assistants and focusing on just being the head coach.
Ray Horton
Ray Horton is the wildcard in this situation. This is THE top choice of most Cardinal fans to replace Whisenhunt. He has the shortest resume of the group but came to Arizona with a system and a vision. He was able to adapt the players he inherited from a 4-3 system and convert them into a 3-4 effectively. He loves to attack.
From a person who loves defense, his team is fun to watch. They like to bring pressure from everywhere and attack the quarterback. In two short seasons, the defense became a top-5 unit capable of shutting down premier offenses. He appears to be young, innovative and well-liked by his players and peers. The question mark is whether he is ready and capable of being an NFL head coach. Cardinal fans definitely believe that he is but that is a big question mark. Good coordinators are often NOT good head coaches. It would depend, again, on the pieces around him. He appears to be candidate with the most possible upside however is also the biggest unknown.