"It is on like a MOFO"
Those were the words tweeted by former Bills player Thurman Thomas this week. This has gotten the rumor mill running in overdrive. Despite numerous fans prodding Thurman as to what this means, he has refrained from further comments. While there are many people who think there will be no changes made to the team in regards to coaching and players, there seems to be a couple people who many deem as credible saying that big things are coming.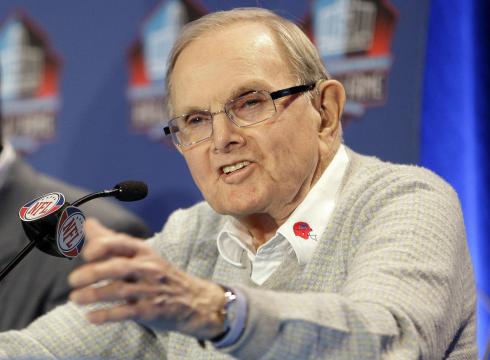 The biggest speculation that's been floating out there has been by website owner Billsman (@Billsman) at www.buffalorange.com and is pretty bold. He's saying via his own sources inside One Bills Drive that the team has been sold to former Bills QB Jim Kelly and his group of investors and that an announcement of the sale will be made after the final game of the year. Also rumored, is that Jim and Thurman Thomas will be running the team. And there will be a new coaching staff brought in for next year and QB Ryan Fitzpatrick might very well be seeing the door too.
Many people may discount this theory. But it does have some merit. With the upcoming changes to estate tax rates going into next year, the estate tax is due to jump from 35% to 55%. That's a massive increase! The folks advising Mr. Wilson may have advised him that this may be a good time to sell the team. I'm no accountant, but at the current rate of 35% the federal estate tax would be $280 million based on the franchise's $800 million estimated worth. Now with the upcoming rate change to 55%, the tax would be $440million!!! Talk about a huge increase! So it does seem possible that Mr. Wilson decided to keep the $160 million and move on. And who'd be a better man to be the face of the franchise and caretaker of Mr. Wilson's legacy than Jim Kelly? I think Jim's passion could breathe a whole new life into the franchise, much like John Elway has for the Denver Broncos.
I myself am taking a wait and see approach to this theory. But it does make sense to me. Seems strange to me that the public heard nothing about stadium lease negotiations this fall. Actually, that they were in danger of falling apart. And then all of a sudden there's a lease finalized and talks from NY State and Erie County about building a new facility. This is contrary to the attitude we heard at the start of the season. It just seems to me like the things are falling into place for this to really happen. Other teams have sold in this kind of fashion. The Jacksonville Jaguars comes to mind.
What does the rest of Bills Mafia think? Big changes? Coaching changes? No changes at all?