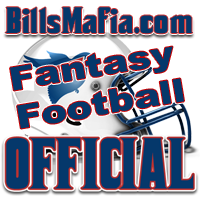 Well it has been a strange year in football for all of us Bills fans. We didn't get the results we were looking for and the sad thing is we have become accustomed to this. Let's hope that the powers that be make the right choices for next year. GO BILLS.
Now, we started The Bills Mafia Fantasy Football League back in August and it was a challenge to try and get 48 people all on the same page and able to find a time that fit everyone for draft day, but with a lot of emails back and forth we were able to pull it off. I want to say that not only are Bills fans the best in the country but you guys are very football savvy. We created 4 leagues, 2 of which I oversaw and the other 2 I had the privilege of being able to look in on and man, were there some exciting games. I want to take this time and acknowledge the league winners and runners up for their outstanding efforts in our inaugural season.
Let's start with the #Buffalove League that was managed by Jesse Sythe. Jesse did a great job managing. His weekly notes were stellar and I want to thank him for his efforts. I'm sure everyone in that league would agree. His last league notes started off with "Pete Carroll is a steaming pile of crap" and I'm sure we all agree. The championship game came down to Moats and Hoes, owned by Cole Karas as the 1st seed and Team Younes, owned by Jono Younes as the 2nd seed. Both won their respected divisions with Moats and Hoes getting the victory by a 96-84 margin. Younes had Arian Foster who had a zero — which 1 TD and 30 rushing yards would have meant a victory for Younes. Not hard for Foster to do. Congratulations to Cole Karas for being the 1st #Buffalove league champion.
The next league to be recognized is the #ExtraWack FFL, managed by Jon Coker. Once again I would like to thank Jon for a great job, it takes a lot of time to look over results and write notes every week. I'm sure the rest of his league agrees that he did a great job. This one came down to @Billsfan62 owned by Jimbo Fitchy, who came in 1st in his division against the #4 seed in the west division, Dead Buffaloes who came out of nowhere to challenge for the title. Unfortunately for the Dead Buffaloes, Jimbo had Drew Brees and the Bears defense to carry him to league champion. Congratulations to Jimbo Fitchy for being #ExtraWack FFL Champion.
Now to the leagues I managed. Let's start with #SchefterBreakingNews. This league was so close that there were so many scenarios in the finals weeks I could not even put them down until the last week of the regular season. This one also came down to the #1 going against #2 — the way it should be. Down Goes Brady, owned by Jason Grimm was consistent with his winning as was Beast Light owned by John Schmitz. Both were 10-4 and won there respected divisions; but as was the story in another league, Jason had Arian Foster and lost, 96-80. Congratulations to John Schmitz for being the 1st #SchefterBreakingNews FFL Champion.
To the final Bills Mafia FF league, #FAMbase FFL. This one I had to join to make an even amount of teams. Thinking I would bring my 13 years of fantasy knowledge in and dominate, I came in last with a 4-10 record. Hoosier Daddy owned by JJ Calabrese came in 1st in the east division, went up against TN Bills Mafia who came in 3rd in the west division and beat out our own Breyon Harris (who crushed just about everyone with a 12-2 record) to make it to the championship game. Hoosier Daddy managed to pull out the closest margin of victory, 116-112. Even with Arian Foster on his team, the rest of his players made up for the zero from Arian. Congratulations to JJ for being the 1st #FAMbase FFL champion.
In closing let me make a few comments. I would like to acknowledge that not one #BillsMafia OG made it to the finals although Breyon came close and Del could probably blame me since I helped pick his team, sorry. I think Cole 12-1 and Breyon 12-2 should be congratulated for those records. That is very hard to do in fantasy football. Thanks again to Jesse and Jon for being league managers in leagues that they were not even playing in. All in all I thought it was a huge success and I look forward to next year. We can talk between now and then on changes we want to make but I don't think we can find any better players than Bills Fans. I am glad to have become friends with all of you, have a great new year.
Vance