Last week, Steve Brown expressed his opinion on the need to retain Chan Gailey for a fourth season, citing many well known examples of coaches who turned their teams around in that fourth year. Today, Jourdon LaBarber takes a look at the other side of the coin.
One thing I think we as sports fans do far too often is assume we are better-educated than coaches and players are in their own profession. I like to believe that if I did in fact know more about coaching than Chan Gailey, for example, then I myself could be a coach in the NFL. (I cannot.)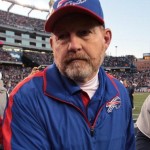 With that being said, there are some cases where I feel I can defer to the "eyeball test." There are certain situations where, despite my aforementioned philosophy, I feel like common sense and logic need to be taken into account – not just football sense, but basic human logic at its simplest level.
More and more, Gailey continues to defy my own – and seemingly the majority of Western New York's – logic with his decision making. With another season down the drain, "Yes we Chan" has become "Chan we please get rid of this guy already?" Buffalo has lost faith in this team yet again, and it starts at the top with Gailey.
The question is, why turn on Gailey now? After all, he didn't take nearly as much heat in an equally disappointing season last year; when his Bills team blew a 5-2 start to ultimately miss the playoffs by winning only one of their final nine games.
Last season was as much a rollercoaster ride for Bills fans as any in recent memory, a ride that ended in typical tragedy as the cart fell off the tracks at the peak of its highest drop. Yet, Bills fans came into this season continuing to back their head coach. What is it that makes this year so different?
Theory #1: Increased Expectations
As high as the Bills took their fans last season before finally letting them down, one aspect of this year's team that didn't exist last season was pre-season expectations. Last year, nobody expected the Bills to be competitive – you may have hoped they would compete, but nobody without a crystal ball could've possibly seen 5-2 coming.
This year, a large portion of the #BillsMafia community truly believed the team was equipped to make the postseason for the first time since 1999. With the off-season additions of super-free agent Mario Williams and fellow defensive end Mark Anderson combined with the return of star players Stevie Johnson and Fred Jackson, fans expected this team to sift through one of the league's easiest schedules without a problem.
What happens when you combine a talented team with high expectations and a relatively easy schedule full of games you feel they just should've won? What you get is a coach on the hot seat.
While it might be hard to blame Gailey for the Bills' first "we coulda had that one" loss, a 52-28 blowout against the Patriots in which four Ryan Fitzpatrick interceptions and an historically bad Bills defense helped Brady and company erase a 14-point Buffalo lead in the third quarter, the next two losses of that fashion certainly put Gailey in question.
First, in week seven, when the Bills held a 34-28 lead with the ball in the fourth quarter against the Tennessee Titans. The game had been a shootout, and the Bills had somehow survived a monster day from Titans running back Chris Johnson, in which he ran for 195 yards and a pair of touchdowns.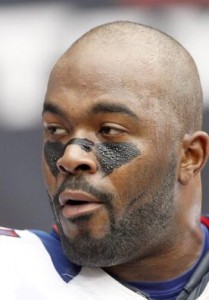 As the Bills held the ball with 2:57 to go, their six-point lead felt like much more as momentum gave the game the feel of a contest they had already won. Fitzpatrick threw downfield on third down, however, trying to hit Donald Jones on the sideline. The ball was picked, and Tennessee ultimately won on a fourth-down touchdown pass to end the game.
While nothing hurts more than a one-point loss, some questioned why Gailey hadn't gone for two points earlier when he had the chance. Others, however, questioned why Gailey – on a day where both of his running backs had accumulated 70 rushing yards – put the ball in Fitzpatrick's hands in that situation.
The next loss came in the return game against the Patriots. This game was the ultimate disappointment, a contest that had an eerily-similar feel to the Bills' triumphant victory over the Pats in Week 3 of last season. Much like last year's game, the Bills had an opportunity to win with a touchdown at the end of the game, only this time a steady fourth-quarter drive yielded opposite results.
On second down from around the Patriots twenty-yard line, Fitzpatrick forced a ball into the middle of the endzone, attempting to hit rookie-receiver T.J. Graham. The play resulted in another game-ending interception and heartbreak for Bills fans.
When word came out that Graham had never before practiced that route and that Gailey called for that particular play, Bills fans were left scratching their heads. Of course Fitzpatrick deserves the majority of the blame for his late-game breakdowns, but why was Gailey putting the team in these positions in the first place?
Which brings me to my next theory…
Theory #2: The Common Sense Factor
The red marks on the faces of Bills fans everywhere have come as a result of the amount of time their faces have spent in their palms each and every Sunday. The amount of time Bills fans have spent with their face in their palms each and every Sunday has come as a result of Chan Gailey's tendency to consistently defy logic.
Here I retreat back to my opening statement: I do not claim to have the football knowledge of an NFL coach. But even the simplest mind has to question Gailey's decisions to run the ball in passing situations and pass the ball in obvious running spots.
The play calling, at times, just doesn't make sense. Winnable games, such as those against the Titans and Patriots, have been blown due to ill-advised pass plays. Similarly, drives have been halted as a result of overly-conservative plays on third down.
My question is, in regards to the one aspect that links Gailey to the other Bills coaches before him, what is this organization's obsession with screens on third down? Somehow this philosophy has survived coaching changes and culture changes and is maintained still today.
All too often, on long third down plays the Bills seemingly give up. Whether it's a screen that fools nobody or a poorly-developed short pass that doesn't get the offense anywhere close to the first down marker, the drive-killing plays have to be placed on Gailey.
None of these points, however, defy logic as much as my third theory.
Theory #3: The Misuse of C.J. Spiller
This is the big one, folks. This is what has Bills fans everywhere absolutely fuming at their head coach. C.J. Spiller, the disbelief of many, has struggled to find carries all season long despite leading the league with an historic average of 6.5 yards-per-carry.
#BillsMafia faithful have begun using the phrase "Free C.J." in a joint effort to solve this problem. While he did have 17 carries yesterday in the wake of Fred Jackson's season-ending injury, it was only a week ago in the Bills' loss to St. Louis when he had only seven carries in an entire game.
Gailey's only explanation in regards to his usage of Spiller: that the third-year running back tends to get "winded" easily. Not only have fans not bought that explanation, but Spiller himself seemed offended by the comments.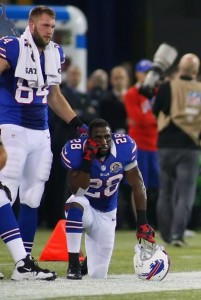 Why does this particular offense get under the skin of Bills fans so much? On one hand, it may be costing the team games. Look at what the Vikings are doing in Minnesota – they find themselves in playoff contention with two games remaining despite the horrendous play of quarterback Christian Ponder. They've done so relying entirely on the workload of running back Adrian Peterson, who in the midst of a career year finds himself in consideration for the NFL's most valuable player.
Bills fans can't help but imagine the offense's potential if they relied more heavily on Spiller. Whether or not it would have had a substantial effect on the team's record, we cannot know. But the fact that Gailey never tried to revolve his offense around his greatest weapon makes the failures of this season even harder to bear.
Aside from wins and losses, the misuse of Spiller might have robbed Bills fans of the chance to see an all-time great season from a running back in a Bills uniform. While Spillers yards-per-carry average warrants such a discussion, but is being ignored largely in-part because his small number of carries has restricted him to tenth in the league in rushing yards. At this point, Spiller may not even make the Pro Bowl.
Just as fans can't stand to see their team blow games against Tennessee, New England and Indianapolis, nobody wants to see a player's immense potential go unrealized. Spiller could have made this a season to remember in Buffalo; unfortunately we'll never quite know what could have been for one of the league's greatest weapons in 2012.
We certainly don't want that to be the case for Spiller's entire career – to wonder what could've been for a player who was unfortunate to play for a team who couldn't use him. Which brings Gailey's future into question; do the Bills give re-vamp the roster once again and give Gailey one more shot, or is there sufficient evidence to say that Chan isn't the right man for the job?
In a season that has seen so much go wrong, there has been no official word that Gailey could be let go after the season. It might not be a stretch to believe that Gailey might get another shot. With back-to-back disappointing seasons and a 15-31 record as Bills head coach, that pretty hard to "billieve," isn't it?