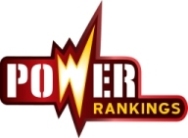 Aaaand crash… back to earth. Credit to Indy and Andrew Luck for the win, but I think it's clear that we aren't getting as much out of our talent as we should in Buffalo. Who's to say what or why, but something's amiss. The players and the coaches all know it. Changes, they are a-coming. All we can do as a FAMbase is rally behind our players and keep them fighting. What do we do as Bills fans when all seems hopeless? We show up to the games, records be damned. I know our players feel the same way, and they'll feel it even more so when they come back home to a loud crowd at the Ralph this week.
Fastest Riser: Indianapolis Colts (+6)
Steepest Fall: Pittsburgh Steelers (-8)
Atlanta Falcons (+1): Matt Ryan completed over 80% of his passes and the defense held off the dangerous Tampa offense to squeeze out yet another win. Winning the next few games is key, because it could mean resting their starters as early as Week 15. Thursday night against the Saints is an opportunity to prove they can win in the spotlight.
Houston Texans (-1): This drop in the rankings is based on the fact that they really should have lost that game to the Lions. Multiple blown calls (including the ridiculous challenge rule) kept the Texans in the game, despite the way the defense was getting beat. This is still a phenomenal team, but they weren't good enough to beat the Lions on Thanksgiving, regardless of the final score.
Denver Broncos (same): Arrowhead stadium is still a difficult place to win a game, even against the now-defunct Chiefs. The Broncos handled business, but they can't give up plays like that against the Bucs this week.
Baltimore Ravens (same): RAY. FREAKING. RICE. Few players can will a team to victory like he did. It really shouldn't have come to making a 4th and 29 conversion against the Chargers, but victory is victory. The upcoming game against the Steelers doesn't carry much bite without Big Ben to worry about.
New England Patriots (+2): Welp, I've probably kept the Patriots out of the top 5 for long enough. They are frustratingly good, and their margin of victory is by far the best in the league. I despise them, but they seem unstoppable these days. To think we were ONE PLAY from beating them. At least we can rely on them to knock the Dolphins back down to earth… or water, I guess.
San Francisco 49ers (same): I can't move the Niners up this week because it's impossible for me to condone what Jim Harbaugh's doing with his Quarterbacks. I'd like to see if anyone tracks stats for a QB's performance prior to being benched. Alex Smith's last 2 seasons rank in the top of the league… and he's getting benched in the middle of a playoff run?
New York Giants (+3): The Giants are clearly done with their midseason slump. The Packers were left in the dust by the second half, which is hard to do to the Packers. Beating the Redskins on Monday night would all but decide the division.
Chicago Bears (same): Jay Cutler could be one of the most underrated QBs in football. During his time in Chicago he's dealt with no receivers and no protection, and he still puts them in contention every year. Imagine what this team would be if they had an O-Line and a slot receiver to complement Marshall.
Green Bay Packers (-4): Mason Crosby may be seeing his last year in Green Bay, or the league for that matter. The Packers in general are under-performing this year, though if Clay Matthews comes back then the defense gets its soul back. Aaron Rodgers hasn't been imposing his will during the last two games, but I don't doubt he'll be back to form before the year is over.
Indianapolis Colts (+6): Our defense did not play Indy soft, and I have a new respect for the phenomenon that is Andrew Luck. The guy just creates plays, and not in the scrambling, "pulling 20 yards out of his butt" way. Whether with his arms or with his feet, Luck appears in perfect control of the game. I don't think ANYONE picked Indy in the playoffs before the season started. Now they're poised to cruise into a wild card.
Cincinnati Bengals (+4): The Bengals have collected two things during the last few weeks: Maturity and wins. This young team is looking stronger every week, and they'll be hard to unseat from a wild card spot at this point. If they do see the playoffs, however, I don't think they can stand toe to toe with the big boys.
Seattle Seahawks (-1): The Seahawks' road woes continue. While 5-0 at home, they are 1-5 on the road, and their road trip continues against the unforgiving Bears. Winning would significantly help them earn a wild card spot. One note, though: They're winless in their division, so they don't win any tiebreakers. They need to solidify that record now.
Minnesota Vikings (-1): You would expect the Vikings defense would show up against that thin Bears line, but they couldn't stop Cutler and Marshall. Peterson had over 100 yards but no TD's to show for it. Compare that to Michael Bush's 60 yards and 2 scores and you can tell who wins. Can they leapfrog the Packers this week?
New Orleans Saints (-1): The loss to the Niners was a nasty speed bump, and now the Saints need to prove that beating the Falcons wasn't a fluke. No better time to do that than prime time.
Tampa Bay Buccaneers (-1): Fortunately for all the NFC wild card contenders, pretty much everyone lost, including the Bucs. They did all they could against Atlanta, execution at the end was the issue. No one expects them to beat the Broncos this week (which is a decent reason to think they might).
Washington Redskins (+4): That's how to make progress! RG3 took command of that game early, and the whole team (including London Fletcher) had a hand in putting the Cowboys away. 5-6 and having won 2 of 3 divisional games, there's still a lot of hope in DC. The Ravens may squash that hope pretty fast though.
Pittsburgh Steelers (-8): Ben Roethlisberger just earned more money in his next contract and a lot of respect by doing almost nothing. This is a hamstrung team without (dare I say it) an elite QB leading it. How else could you describe a guy player who leaves such a profound effect in his absence? Remember last year's Colts without Peyton?
Detroit Lions (same): I won't drop them a spot for effectively beating the Texans in a loss. Jim Schwarz needs to glue that red flag to his belt so it'll at least take him some time to make such a terrible decision. A loss like that can gut the spirit of a team. I'm curious if Matt Stafford can maintain his composure and lead his team in the way he has for the last couple weeks.
Miami Dolphins (+2): Surprise, surprise! It turns out using Reggie Bush is a good idea after all! While the Dolphins set their sights on a wild card spot, I'm eager to see these fish get squished by the Pats this week.
Buffalo Bills (-1): AAAUGH! If you'd like a bright side, Colin Cowherd gave a good description of our team on SportsNation, saying that our players are significantly better than our record. I agree. Can we at least beat the Jags? Please?
Dallas Cowboys (-4): And that, ladies and gentlemen, is how you choke. It's difficult to attribute the almost superhuman inconsistency the Cowboys have shown to any one cause. I mean, they are like the football version of bipolar disorder. One day they're confidently dominating some of the league's best, and the next day they've forgotten how to call plays. Sheesh.
New York Jets (same): Oh, those Jets got SPANKED. Did you SEE Fireman Ed??? DID YOU SEE HIM? It really reminds you what you're thankful for.
St. Louis Rams (+3): Not too shabby, St. Louis. Steven Jackson is a Mack Truck on the field. This week we get a rematch of "THE TIE." Am I crazy for thinking Kaepernick will choke and the Rams will steal a win at home? Perhaps.
San Diego Chargers (-1): I would start by praising the Chargers defense for keeping the Ravens under 20 points, but then there's that 4th and 29 play. How do you let that happen? They have a chance against Cincy this week, but I think Norv Turner may be too busy writing his resume to coach.
Cleveland Browns (+3): That performance deserves a slow clap. Cleveland moved the ball on the stiff Steelers D, and the Browns defense completely stonewalled the run. The Steelers' top rusher of the game was Jonathan Dwyer with… wait for it… 19 yards. They could make it 2 wins in a row against the Raiders!
Tennessee Titans (-2): After being all excited about Jake Locker getting back in the mix, the Titans were stunned by Chad Henne's gunslinger game. I'm pretty sure they just want to skip the game against the Texans.
Arizona Cardinals (-2): Remember when we were really proud of beating that undefeated Cardinals team? Yeah. They haven't won since then. Now they have the same record as us! One thing we know for sure: The starting Cardinals QB for 2013 is not currently on their roster.
Carolina Panthers (+2): Cam Newton seems to like prime time quite a bit. Granted, pretty much NO ONE watched that whole game. I mean, The Voice was on, and then there was the Daily Show and Colbert later on. Sorry Cam. No one's watching your game against the Chiefs either.
Jacksonville Jaguars (+2): Chad Henne? Really? Suddenly this guy is Jacksonville's savior, and he actually does deserve some credit. He's getting things done on that field. With two weeks to go on, Dave Wannstedt better have a hell of a game plan for this guy.
Oakland Raiders (-1): I'm pretty confident Carson Palmer hates Cincinnati. Not just the team or the fans. I think he hates the entire city and every single resident in it and he hopes he never, ever has to go there again. I also think the feeling is mutual.
Philadelphia Eagles (-4): I just look at Andy Reid on the sidelines and my bottom lip starts trembling. I really think the Eagles should just fire him now for his own good. With what he's had to deal with this year, he doesn't deserve to go through the painful process of answering to the city of Philadelphia for the crimes committed by his football team. Get him the hell out of there and let him spend time with his family. Man. Now I'm all depressed.
Kansas City Chiefs (same): There is not, however, anything more depressing than the Kansas City Chiefs. Now the unquestioning rulers of the league outhouse, the Chiefs are facing serious upheaval in the coming months. I think it's safe to say that Brady Quinn needs to save his money and dig up whatever degree he got in college. He's gonna need it because I don't see any teams picking him up after this season. Nice guy, though.
So what now? Is the season over? I say NO. We are only 2 games back from the #6 seed with five games to play. Our schedule is favorable. Our team won't quit. 3 of our last 4 losses were by one score or less. The Bills CAN make the playoffs this season (with help). That's enough reason for me to keep hope alive. GO BILLS! KICK THOSE KITTIES!