I realize that Ryan Fitzpatrick is at best an average NFL QB. Furthemore, the WRs are not exactly stacked with big name players. However, fans who have been yapping about the front office not drafting a QB might need to re-think their criticism.
After watching both these lines through the first three games (and yes, all the players stunk in the Jets game), I realized what I hated most about watching the Bills for the last decade. It has been so long since we've seen good line play by the Bills (on both sides), that I forgot how much better line play can make all the players on the team improve. Tashard Choice is an average RB who looks good right now because the OL is giving him holes the size of Texas to run through.
My point? The Bills would not have both lines playing at this high level if they had not spent the money and draft picks on getting both lines up to speed first. The lines make the rest of the players more successful. Yes, even Ryan Fitzpatrick can get away with his maddening play because the offensive line has been keeping him upright and giving him so much more time to throw the ball. Do I wish he was more accurate? Heck yes. I'm still hoping he finds his "golf swing" and is able to perform at the same level he did during the first half of last season.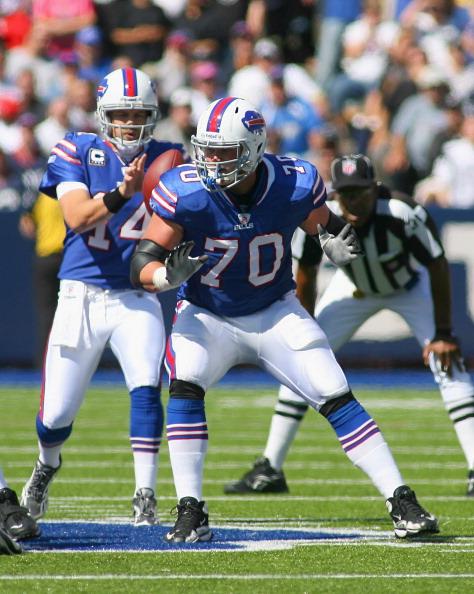 The bottom line is the LINE, in my opinion. I even question whether CJ Spiller would be having his "breakthrough" year if it weren't for the offensive line playing lights out. The defensive line is getting the defense off the field and putting the game back in the hands of the offense.
For the first time in years it is fun to watch the Bills play. I'd much rather watch a team with two dominant lines and an average QB, than a QB who might have all the talent in the world but cannot play to his potential because he is getting eaten alive… and RBs with all sorts of talent who have no holes to get past the line of scrimmage.
So for all the folks who want to scream about not securing a franchise QB, can't you at least admit that maybe Buddy Nix might have been right to get both lines in place first? And, don't tell me they could have gotten it all done by now because this team was too decimated for that to happen.
For the first time since I can remember, I am truly enjoying watching this team play football. I think they are still a year or two away from being serious contenders, but in the mean time it's really nice to watch the Bills dominate the line of scrimmage on both sides of the ball.