Welcome to Day 8 of our Celebrity Blog Series!
As you all know, Bills fans are everywhere. In all areas of the world and in all segments of society.
A few months ago, we came up with the idea of asking some of the more well known fans in the media and Twittersphere if they'd be interested in contributing a guest column for BillsMafia.com to help kick off the 2012 season. The topic could be whatever they chose to write on. The team's outlook, the team's history, their thoughts on the Bills Mafia movement… anything really. One contributor will even be sharing his Fantasy Football tips.
Wait, "one contributor?" What's that supposed to mean? Well, we're going to have some fun with it and wait until the article is actually posted to reveal who that day's writer is.
Today, Jeff Glor of CBS News shares what being a Bills fan means to him.
A native of the Buffalo suburb of Tonawanda, Jeff is anchor of the Sunday edition of the "CBS Evening News" and Special Correspondent for "CBS This Morning."
---
My parents used to make me go to the basement.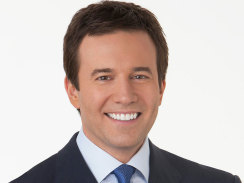 I guess I didn't really fight it. When the games got too tense, I wasn't much fun to be around. Screaming, pacing back and forth, blurting out words respectable folks shouldn't hear. Ask my wife. It still happens.
Games could be physically exhausting. Stomach-churning, head-pounding, sweat-inducing. It was a workout, and I wasn't even on the field. I just had everything wrapped up in what happened on that field.
I don't know where it started. I suppose my paternal grandmother could take credit. Closing in on 90 years of age, she is still the biggest sports fan I know. She watches every quarter of every Bills game and every period of every Sabres game. She took me to a small sports shop when I was five and got me geared up. T-shirts, hats, sweaters. I was hooked. She passed down her passions. I'll pass them down to my little guy.
The first Super Bowl loss was the worst. That one was ours. We were better; we should have closed. The other ones were easier, though by no means easy.
I think I poured so much into those teams of the late 80s and early 90s that maybe it was better when I couldn't follow quite as closely in some of the years that followed. When I lived in Syracuse, not every Bills game was on TV. When I lived in Boston, even less. Plus, I was working weekends. For a stretch, sadly, the Bills didn't dominate every single Sunday.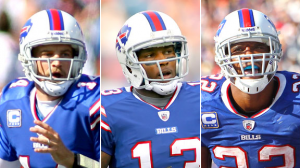 In recent times, through the magic of the Internet and satellite TV, the football world has been a much better place. I like what the current regime is doing. I trust Buddy Nix. I was overjoyed by Mario Williams' choice. I'm encouraged by Fitz's smarts, Stevie's shiftiness, and Fred's determination. I don't know if this is our year, but I like to think, knock on wood, that we're not light years away. Again: Knock. On. Wood.
I still wonder why it matters so much. I have zero control, after all. Why should I get so wrapped up? Why should I get in so deep? It's a futile argument. I'm a fanatic. The team has been part of my life since I can remember. Always has been. Always will be.
I'm a native Western New Yorker. I'm a Bills fan. Nothing could make me prouder.
Follow Jeff Glor: @jeffglor
Jeff Glor
CBS News
Link to CBS News Bio