To each their own with respect to the half-glass of water, but I've wasted too many years being thirsty, and not enough time being grateful for the drink. This year, as usual I take a pause on Labor Day to reflect upon my football "fanhood." This really is one of my favorite holidays for that very reason.
Far removed from the origin of this holiday… and by default of its proximity with respect to football season, it has become the holiday where I choose to reflect. I reflect upon what might lie ahead in all aspects of life, football being just one of them. Most of us (no matter our age) feel the rhythm of school starting again, the leaves changing, and preparing for the next chapter.
One of the many benefits of aging is how much easier it is to put the fate of our favorite football team in perspective rather than setting ourselves up for failure. Many younger Bills fans don't have the experience of having lived through OTHER "decades of despair." The Bills really have had only two decades in all their existence that were arguably considered "decades of success" (the 60's and 90's). There were periods of reaching the playoffs, but extended periods of time where they might be considered successful, not so much (IMO).
So many Bills fans seem to cope with this dismal overall record and LOL (Lack of Lombardies :) by creating a hardened exterior, expecting failure, becoming very cynical, and rejecting any possibility that the Bills might actually surprise on the upside. That outcome is forbidden because allowing for that to even enter a Bills fan's brain is the equivalent of drinking the poisonous "kool-aid."
Well, I'm here to share with you my dirty little secret; you can still be a Bills fan and be excited as you were as a kid for the beginning of football season. It's even OK to pull your head out of the oven long enough to breathe in some fresh air. Consider that perhaps your built-in defense mechanism of negativity at any cost might actually be preventing you from missing out on the best part of football… you just never know how the pigskin will bounce. You wait an entire offseason watching your favorite team gut themselves of what/who is not working, go through the draft, the OTAs, the mini-camps, training camp and the preseason. The cynic in your brain is at fever pitch screaming at all the missteps taken along the way because of course… each of us is really a better GM than Buddy Nix!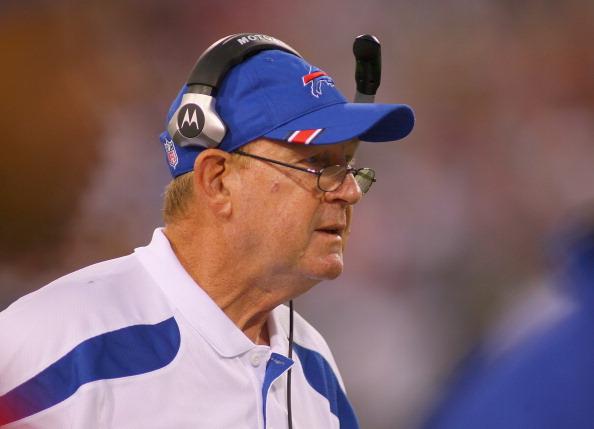 My convoluted style is more like grabbing a cup of coffee, sitting outside in my chair on the deck and looking at the mountains with a big fat smile on my face. Lived to see another football season, at least for now. Anything remains possible, including the Bills actually making the playoffs and contending. Perhaps they beat the Patriots* again and start challenging them instead of fielding inferior teams year after year.
Maybe this team will also get lucky for a change, because we all know that there is as much of an element of luck to winning it all as there is talent and good coaching. It has to all roll out just right for that one team and their fans to reach ultimate nirvana as a football fan. Further, as we already know from our lives as Bills fans, being the bridesmaid four years in a row is enough to bring you to your knees. It tests you in a way that no other football fan can ever truly "get."
However, here we are… at the beginning of the road with an unknown destination. A prudent Bills fan dons on all the armor and protection they can get. Put that cynicism out and in full ON mode before anyone can sniff a vulnerability of hope emanating from us. Be sure to let everyone know how stupid our beloved team is for not drafting X, Y, or Z player, or why the team will undoubtedly fail for years to come because they didn't __________. Whatever!
If that's the pathway the majority of Bills fans want to take as we begin our favorite time of year, then have at it. Me? I'm choosing the path that is almost hidden out of sight by now because it's not been used that much. I'm going down a walking path instead of the six lane "Highway to Hades" where people fuel themselves with incendiary statements about how much they KNOW about what is going to happen in the future. Guess I missed out on the part of the brain that can so accurately predict the future…
I'm happy to live with NO expectation of outcomes at this point in life, be it regarding football or anything else. Thankful to be alive and hoping to live through another exciting season of pigskin every Sunday. If you haven't tried it, don't knock it. The old saying that "ignorance is bliss" does have some relevance today if you think about it.
So, if you are adventurous, try sitting down. Relax and take a deep breath. Think about how much fun it is to be in a rare moment where anything is still possible in our football world. There will be plenty of opportunities for misery.
Just sayin'…