Woke up to the repeated chorus of Billy The Buffalo singing "Buffalo girl, won't you come out tonight and dance by the light of the moon.". It pounded in my head until I got out of bed, grabbed my laptop and started typing. While listening to the snores echoing across the foothills of the Big Horn Mountains, I'm awake and obsessing about a fourth preseason game, the Buffalo Bills @ Detroit Lions game. Have I completely gone over the edge?
Nope. You know you're a Bills fan if you understand why. It's pigskin time, and no one circles the wagons better than Buffalo Bills fans? Yea, that…
Being the "half glass full" kind of person, I never understood why people don't get the excitement of the last preseason game each year. Far from being a snooze-fest, it often offers spectacular play by unanticipated heroes, who emerge out of seemingly nowhere to make their case for why they belong in the NFL. This game was no exception.
Case in point; Tyler Thigpen. With Vince Young's teaching points on how to rewrite the script of achieving epic failure in the face of possible success, Thiggy exemplified the role of the underdog in masterful fashion. All but left for dead after the Bills excised themselves of Mr. Young faster than Buddy Nix can normally hit the speed dial for Plan B, Thiggy was nothing short (OK, he was +1 INT) of his complete transformation into Frank Reich 2.0. That is, until his expected INT ended that dream.
So what if it was a fourth preseason game in Detroit? Thiggy came out with guns blazing, attempting to complete as many passes to Detroit's defense as humanly possible, and he didn't disappoint. In fact, his first noodle armed INT was arguably channeling my dead grandmother more than Frank Reich, but hey… it's the fourth preseason game, right?
By the time the Bills were down 28-7 in the first half, Bills fans across the Twitterverse were clucking and chiming their guesstimates on how fast Thiggy would be out of the NFL for good. Then he engineered what appeared to be his strongest case for why the Bills might not want to be so eager to send him on the first bus out of town. Cue in Brad Smith going to the locker room with a groiner, and you have your case for QB controversy.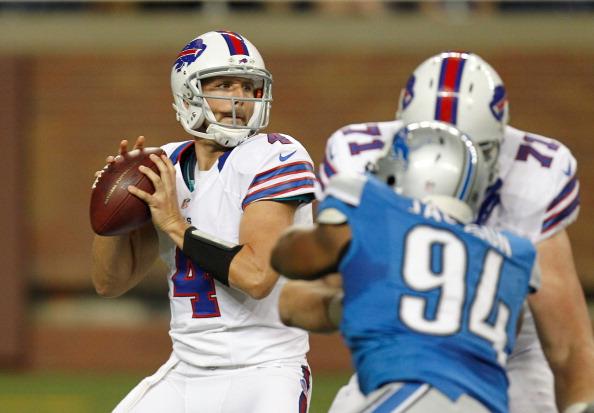 But wait, it turns out that it's really not the conspiracy theory espoused by delusional fans who believe that T-Jax was secretly brought in to challenge Fitz for his job. It's a controversy brewing over how many mediocre QBs the Bills can carry on their roster to equal one good backup QB. Thiggy's plucky performance almost resulted in the preseason come-from-behind game of the year. And then he threw the INT that quickly eradicated ghosts of Frank Reich's past.
Only Bills fans would create mass panic and call for the head coach's head on a plate because they "know" that the Bills are doomed. The backup QB position is in a state of flux, so let's panic and assume that there is really a conspiracy to replace Fitz with any one of them, instead of drafting a series of third round QBs whose collective chance of NFL success is less than or equal to my dead grandmother (yes, she was a rising football star in her day). It's all good, we're Bills fans. We come to expect, and are often guilty of fanning the flames of irrationality. It's expected of us, and we never cease to deliver a cacophony of preseason nonsense.
If you are a Bills fan, then you understand the importance of overlooking the fine display by the first string offense, who came out and finally put together one nice drive, capped off by a TD. Of course this will not soothe the minds of the naysayers who are determined to hit the send button on Fitz's obituary as a Bills QB. Nothing short of an epic failure by the Bills to make it to the playoffs (again) will satisfy these doomsayers.
Lost in all of this were some fine performances by a couple of players, goosed by their respective revenge upon their previous teams for relegating them to the collective unknown. One was Kyle Moore, who Mark Kelso enlightened us as to why he played like his hair was on fire (does Kyle Moore even have hair?). Apparently, Mr. Moore was determined to show the Detroit Lions staff that they wasted a year of his professional football career by stashing him on the practice squad last year.
The other was none other than John Wayne Wendling, who got the ax by the Bills after failing a physical due to knee injury a few years back. Save for being penalized for playing a bit too intensely, he managed to make his statement in the form of some punishing hits on former teammates. Oh wait, I guess it doesn't count when almost the entire Bills roster has been recycled since Wendling landed on the Lions' depth chart and ST. Didn't matter who was in the uniform, Wendling made them pay the price, doing it with his classic smash mouth, free-wheeling "Wyoming Way." Talent doesn't matter when the goal is purely physical punishment.
C.J. Spiller raised some eyebrows early on with his speed, agility and improving footwork. Not the same "happy feet" guy we saw come out in his rookie season and fail to reassure Bills fans that the brass didn't make a mistake by drafting him in the first round in 2010. How many players from that draft will remain on the squad by 4 PM Friday remains my biggest question about that draft. Of course, Bills fans in full hysteria mode refuse to accept that the real common denominator in the decade of fail might not be Mr. Wilson, but was in fact Tom Modrak.
Relegated to radio because of NFL.com's failure to provide a functional link despite paying the $20 for their preseason pass to watch the games live online, I missed what was apparently a very good outing by Cordy Glenn. Refund, anyone? After I watch the replay on NFL Network, I'll get back to you on that "ears only" assessment.
Then there was Marcus Easley, who emphatically made his statement with a return for a TD on Special Teams, while Hagan disappeared from any sort of statement at all. With Brad Smith's groiner, arguably one of the larger question marks remain who will be kept as the last WR to make the team? My "homer" pick Naaman Roosevelt did not stand out in the game, either in a good or bad way. I do fear he might be wearing a different uniform in a few days (hoping it's not an AFCE model).
Sheppard showed some signs of life at MLB, which was very encouraging for those of us who long for some serious nasty at that position. The Bills need him to make that "second year leap" on a squad who is arguably fielding one of the less impressive set of LBs in a long time. Wanny will have his work cut out for him with this crew. The young ones, particularly rookie Nigel made a few statement hits to at least keep us from putting our collective heads in the oven over the LB corps.
All in all, the "bubble" players, the "camp fodder" and all the other disrespectful titles ascribed to young men desperate for a chance to play in the NFL put on a great show for fans. However, as a long suffering Bills fan, I know better than to expect the majority of my fellow fans to focus on what really counts… 10 days from now.
Next up, the JeSts. Bring them on!