Welcome to Day 2 of our Celebrity Blog Series!
As you all know, Bills fans are everywhere. In all areas of the world and in all segments of society.
A few months ago, we came up with the idea of asking some of the more well known fans in the media and Twittersphere if they'd be interested in contributing a guest column for BillsMafia.com to help kick off the 2012 season. The topic could be whatever they chose to write on. The team's outlook, the team's history, their thoughts on the Bills Mafia movement… anything really. One contributor will even be sharing his Fantasy Football tips.
Wait, "one contributor?" What's that supposed to mean? Well, we're going to have some fun with it and wait until the article is actually posted to reveal who that day's writer is.
Today, Luke Russert of NBC News, son of the late Buffalo-born legend Tim Russert and die-hard Buffalo sports fan in his own right, shares his thoughts on the Bills and the fork in the road they face in 2012.
---
January 8th, 2000. Remember those times? The economy was going strong, we had just gotten through Y2K, Elian Gonzalez was all over the headlines and gas averaged $1.70 a gallon. Bill Clinton was president, George W. Bush was still a governor and Pope John Paul II still led the Catholic Church. Tom Brady had just completed his senior season at Michigan and most experts thought he wouldn't amount to anything more than a 3rd string QB. The Bills having ridden Doug Flutie to the playoffs decided to start Rob Johnson in the Wild Card round and he actually won them the game until, well, you know the rest.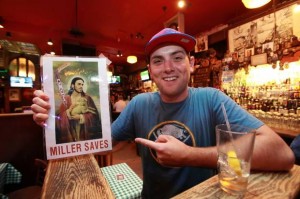 Probably more so than any of the tough losses of this millennium, Steelers 2nd team in 2004 (win and we would have been in), the Cleveland Snow Bowl loss in 2007, Leodis' fumble on MNF 2009 against the Patriots, the Steelers again in 2010 on Stevie's drop, the thing that gets to me more than anything is the streak —- 12 years. It's been 12 years since the Buffalo Bills have been to the playoffs. If you had a kid back then, they will soon be starting the 7th grade and have not gotten a chance to feel the magic that was the winning in the 1990s. There are many reasons why it's been 12 years since Buffalo has been to the postseason. Some say it's the curse of Doug Flutie (http://www.youtube.com/watch?v=qfZNFQtPKrI), others point to QB busts (JP Losman, Trent Edwards) or terrible decisions by the front office (Erik Flowers, Mike Williams, John McCargo, Dick Jauron), whatever the reason, this is the year there are officially no viable excuses.
Unlike their usual thrifty selves, the Bills dropped $100 million dollars on the best available defensive lineman in free agency: Mario Williams. His signing, similar to when the Washington Nationals overpaid for outfielder Jayson Werth, was a message to the entire NFL that the Bills were finally ready to win at all costs. They've doubled down on their own version of the triplets, Fitz, Fred and Stevie and even had what looks to be one of their strongest drafts in years this past April (I still love Cordy Glenn in the 2nd round.) Their schedule is the 29th easiest in the NFL, their opponents' 2011 winning percentage was .473 and they face only 5 "quality opponents." If they can't end the drought this year, when will they? For this reason it goes without doubt that this year is the most important Bills season of this century.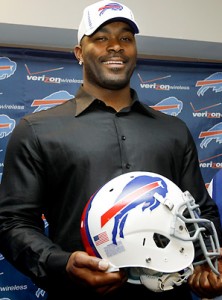 If the Bills don't make the playoffs the label of loser will stick more than any other recent year. I can just hear the snark oozing out of the mouths of Pats, Jets, and Fins fans, "All that hype for nothing, suckers." That's why this Godforsaken streak must be broken. I once thought I'd be okay with 8-8 this year. NO! It's not enough to start out hot this year and become the darlings of the media and then blame late season misfortunes on injuries. It's not enough to say we just can't compete with Brady and the big money Jets and Dolphins in the division. It's not enough to say we're just Buffalo being Buffalo.
I live in Washington, D.C. so I usually make 1 home game and 1 game on the road each year. However, I watch every game at a Bills Backer bar, if I'm on the road I find a place with Sunday ticket. I can't miss the Bills. Part of being in the Bills Mafia is having an undying loyalty to the organization and for what it stands for at its greatest moments. We don't have the sex appeal of the Jets, or the dynasty of the Patriots, or the sun of Miami. We're a fanbase that's been beaten down and has lived on false hope; however, we have something our rivals will never have — undying faith. We BILLieve our time is just around the corner, that a parade will be on Chippewa and Buffalo will be Title Town. Recently, we've understandably grown complacent late in the season. Acceptance of mediocrity permeates our skulls and we think winning will never happen. This year it has to change. We need to be all in for 16 Sundays because honestly, this is our last best hope. If this team can't produce, we're looking at another decade of futility. So I say to you on August 24th, 2012 the 12 year drought will come to an end. It has to and we need to do everything in our power to make The Ralph the place that will launch the Bills to the playoffs.
For us expat Bills fans, wear your gear proudly every Sunday till week 17 no matter what. We expect to win and make the playoffs or at least play in a meaningful game on December 30th at home against the Jets.
Here's my prediction for 2012:
Wk
Date
Matchup
TV
Time
1
Sun, Sept. 9
at New York Jets
CBS
1 p.m.
Lose a close one 27-24 L
2
Sun, Sept. 16
vs. Kansas City Chiefs
CBS
1 p.m.
Team comes back on a mission we win 28-7. W
3
Sun, Sept. 23
at Cleveland Browns
CBS
1 p.m.
In the battle of Lake Erie will pounce on young Browns team and hold them down. 17-3 W
4
Sun, Sept. 30
vs. New England Patriots
CBS
1 p.m.
For the 2nd year in a row the Pats lose on our turf 34-31, the media attention begins W
5
Sun, Oct. 7
at San Francisco 49ers
CBS
4:25 p.m.
This now becomes a national game and we lay an egg 35-7. National media now says we are same old Bills L
6
Sun, Oct. 14
at Arizona Cardinals
CBS
4:05 p.m.
Staying the week on the west coast helps, in Glendale (Buffalo West) we win 21-10. W
7
Sun, Oct. 21
vs. Tennessee Titans
CBS
1 p.m.
A very important must win home game to keep momentum, we learn from our mistakes of 2011 and we win 23-17. W
8
Bye
9
Sun, Nov. 4
at Houston Texans
CBS
1 p.m.
Media hypes up Mario's return to Houston, it becomes a national game, we lose a tight one 31-24. L
10
Sun, Nov. 11
at New England Patriots
CBS
1 p.m.
Remember how we almost won at NE last year? This time it happens. Bills sweep Pats!!! W
11
Thu, Nov. 15
vs. Miami Dolphins
NFLN
8:20 p.m.
The biggest home game in ages, the rowdy night time crowd propels the Bills to a huge win, they beat up on the Dolphins 24-10. W
12
Sun, Nov. 25
at Indianapolis Colts
CBS
1 p.m.
Andrew Luck shines as the Bills have their "what the hell?" moment of the season. Colts win 21-14. L
13
Sun, Dec. 2
vs. Jacksonville Jaguars
CBS
1 p.m.
Here comes the all-important December stretch Bills win 20-6. W
14
Sun, Dec. 9
vs. St. Louis Rams
FOX
1 p.m.
Jeff Fisher owns us again, Rams win 24-13. L
15
Sun, Dec. 16
vs. Seattle Seahawks
FOX
4:05 p.m.
Bills win 14-0 W
16
Sun, Dec. 23
at Miami Dolphins
CBS
1 p.m.
Fins get revenge for Thursday night game, win 31-20. L
17
Sun, Dec. 30
vs. New York Jets
CBS
1 p.m.
In a pride game for the Jets, the Bills beat up on a starting Tebow W
10-6. We can do it. It's right there for the taking. Playoffs!!!!
Follow Luke Russert: @LukeRussert
Luke Russert
NBC News Correspondent
Link to NBC News Bio