Welcome to Day 1 of our Celebrity Blog Series!
As you all know, Bills fans are everywhere. In all areas of the world and in all segments of society.
A few months ago, we came up with the idea of asking some of the more well known fans in the media and Twittersphere if they'd be interested in contributing a guest column for BillsMafia.com to help kick off the 2012 season. The topic could be whatever they chose to write on. The team's outlook, the team's history, their thoughts on the Bills Mafia movement… anything really. One contributor will even be sharing his Fantasy Football tips.
Wait, "one contributor?" What's that supposed to mean? Well, we're going to have some fun with it and wait until the article is actually posted to reveal who that day's writer is.
Today, to kickoff the series, is none other than Cory Hepola — the first news reporter to actually acknowledge the #BillsMafia movement. And he did much more than just acknowledge us, he featured us on Rochester TV station, WROC! Cory has since moved to Austin, TX, where he covers the Texas Longhorns for KVUE-TV but he still looks back on his time covering the Bills in Western New York fondly, as you'll see below.
---
I remember the first time I saw the hashtag: #BillsMafia.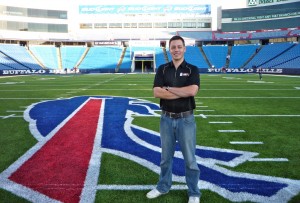 It was Monday, August 8th, 2011. I was working as a Sports Anchor/Reporter at WROC-TV in Rochester, NY, although I had this particular night off. Now, I'm not sure how. And, I'm not sure why. But, on this night, every single Buffalo Bills related tweet included the #BillsMafia hashtag. This was the first time I had heard of the #BillsMafia (I was certain of it), and here it was flooding my timeline. Even the Bills players were using it.
The next morning, I fired off some tweets: What's the #BillsMafia? What does it mean? Who started it? Why are the Bills players – all of a sudden – including #BillsMafia in all of their tweets?
I didn't expect much. I figured I'd get about 7 or 8 ambiguous at-reply's and be even more confused.
Less than 30 minutes later, I received a detailed email from Del Reid explaining he, Leslie Wille, and Breyon Harris had originally started #BillsMafia as a joke in November 2010, but it had blossomed into a way for Bills fans to connect with each other and (now) the players. Del said it was different from the #Nation hashtags out there because #BillsMafia was created to be universally supportive of the team and players. AND, it was blowing up; Del had designed a logo, launched a website, and was ordering merchandise with the proceeds going to a hospital.
My response: has any other reporter contacted you about doing a story?
With every passing minute, the #BillsMafia was becoming more legitimate; the players were embracing the movement through re-tweets and by using the hashtag themselves. This was an extremely unique story and we wanted to be the first ones to tell it.
Our first step was to get the co-founders together at St. John Fisher to watch a Training Camp practice. This became extremely difficult for 4 reasons:
1. Del and Leslie both live at least 90-120 minutes away.
2. Breyon lives in Virginia.
3. They were all great friends on Twitter, but had never met in real life.
4. Thursday's night practice was my only option to shoot the interviews and that was (only) 2 days away.
Over the next 36 hours, we finalized a plan: Del and Leslie would drive (separately, with their own families) to Pittsford for Training Camp (Breyon, obviously, could not attend), and I would meet them outside of the gate about 45 minutes before practice was to start.
I didn't sleep much on Wednesday night. I knew this had the potential to be a tremendous story, but a lot of different pieces had to come together in one day. I was anxious.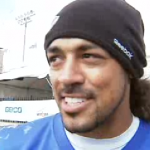 Early Thursday morning, the Bills had a walk-through practice that was open to the media (but closed to the public). This was my shot to ask the players what they thought about the #BillsMafia.
And, they were awesome.
I interviewed Stevie Johnson, Nick Barnett, and Aaron Williams, and they all spoke glowingly about the #BillsMafia. That didn't surprise me. What DID surprise me is how much they knew about the movement and its purpose. These players were not spouting cliche' answers to appease the fan base; their excitement for the #BillsMafia was real.
That afternoon, I outlined a semi-script for the story. Stylistically, I wanted it to be conversational (like Twitter) and to incorporate Bills fans. This was not going to be your ordinary "news" story.
Finally, it was 6:15 PM. Del and Leslie (and their families) arrived just a couple of minutes apart, both right on time. It was interesting: two friends – who, for months, had shared so many ideas and opinions through Twitter – meeting each other in "real life" for the very first time.
When the night was over, #BillsMafia became one of my favorite stories I've ever done:
http://rochesterhomepage.net/fulltext/?nxd_id=265887
Follow Cory Hepola: @CoryH_KVUE
Cory Hepola
Sports Anchor/Reporter
KVUE-TV
Austin, Texas
www.coryhepola.com