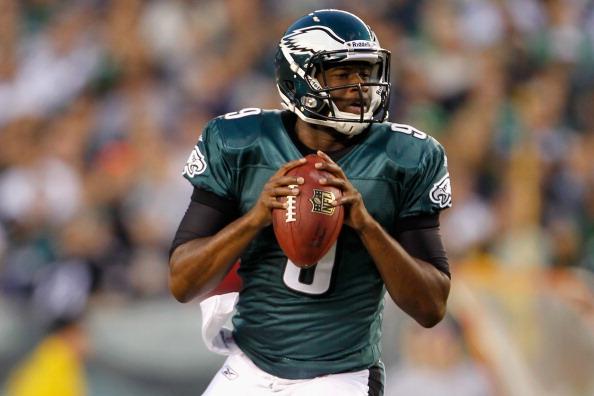 We as football fans know how important it is to have a franchise quarterback on your team. The franchise quarterback is looked upon at all times throughout the season when things are going good for the team as well as when things are going bad. What some fans don't realize is how important the backup or second string quarterback can truly be essential to a franchise. Injuries happen on a regular basis in the NFL and are very hard to predict. This is why it's so important to make sure you have replacement players that can step in to fill the void where the starters had left off. This brings us to the recent addition the Buffalo Bills just made this past Friday with free agent Vince Young.
The Bills signed Vince Young to a one year deal worth $2 million dollars with a $1 million dollar incentive bonus if he meets certain criteria. Some fans may say that is way too much to pay a quarterback that is going to be competing for a backup spot, but on the other hand there are those that love the idea of what Young brings to the table. Vince brings a competitive and unique skill set that will make competing for the backup position with the likes of Tyler Thigpen, Alex Tanney, and Aaron Corp that much more exciting.
Our General Manager, Buddy Nix, likes the idea of having Young on the roster; he feels as if Young will elevate everybody's play on the entire roster. "We think adding Vince to our roster will create more competition for the backup quarterback position," Nix said in a statement. "He brings with him some unique physical abilities that most are aware of and that will make the competition interesting. It's all about improving our team." Coach Chan Gailey is enthused of the idea of having Young come in and compete for a spot on the quarterback depth chart. Here is a statement the coach made after hearing the deal that solidifies his opinion of Young, "All I know is he's a talented guy that said all the right things when he was here and I'm looking forward to working with him". Vince may come in and run a wildcat-like offense which would allow for Brad Smith to fully commit to being a wide receiver; Smith did show some signs of being a threat at the receiver position last season. Young's unique football intangibles tend to set him apart from the prototypical NFL quarterback. His ability to step in and fill the void when called upon may be something we all can expect him to do without hesitation.
Another great facet of Vince's game that he brings to the Bills organization is the fact that he went on record and stated his true feeling about the Bills. "I have always respected the Bills organization and I am looking forward to being a part of the team." The key word in this statement is the word "Team," the importance is in the sense that it symbolizes what the Bills are becoming this offseason. Coming in and competing for a position on the "Team" and helping the team strive for their seasonal goals. They are building an organization that brings in players that are team-oriented and that are all there for a few reasons: to play football, win games, go to the playoffs, and ultimately win a Super Bowl. The signing of Vince Young is one of excitement for the Bills, it strengthens and adds depth to yet another spot on the roster, which is putting them in position to be a force to be reckoned with in the AFC East.
Chris Brown
Bills Mafia Blog