As you may know, I had the opportunity to represent the Bills in the #MockTwo Mock Draft over at MockOne.net this past week. I have to say, it was an absolute blast. Many thanks to those that run it for allowing me to participate, and of course to BillsMafia.com staff writer @BNQuinlan who got me on their radar to begin with several weeks back when he suggested to them that I take a stab at it when he was unable to participate in #MockOne. (I wasn't able to participate in #MockOne but luckily had the chance to this time around.)
Well, the final results are in. Here's the full breakdown of how I was able to represent New York State's only professional football team in #MockTwo: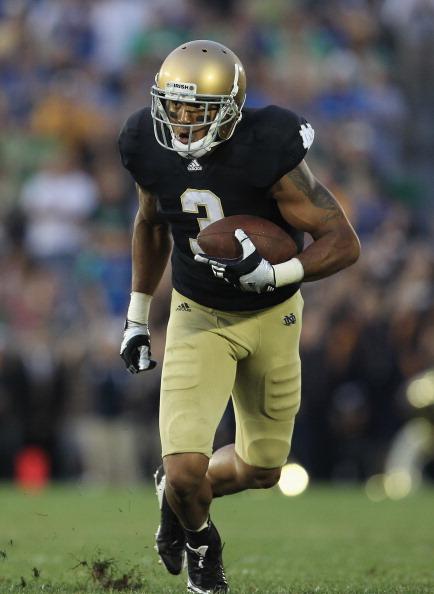 Round 1, 10th selection (10th overall)
Michael Floyd: WR, Notre Dame
This was a tough decision. Given this scenario, I honestly will be pleased whether the Bills address their thin depth at the tackle position by selecting Jonathan Martin, bolster the already improved pass rush by selecting Courtney Upshaw, or take the best player available (aka "BPA") at the time (a mantra Buddy Nix lives by) — which in my opinion is Michael Floyd.
I decided to crowd source the selection and see what my fellow #BillsMafia Twitter followers had to say about it. We had 12 votes for Upshaw, 26 for Martin, and 35 for Floyd. I was leaning that way anyway as the team doesn't currently have a proven #2 receiver on the roster, so it would seem the BPA was a good match.
Come September, however, I'm happy if any one of these guys are rocking the red, white, and blue.
Round 2, 9th selection (41st overall)
Bobby Massie: OT, Ole Miss
Coby Fleener (TE, Stanford) was the sexy pick here but after selecting Floyd in the first it would have been downright irresponsible not to address the OT position with the following pick. Once the Texans selected Mike Adams at 1.26, I had a pretty good idea it was going to have to be Massie. I was a little nervous he'd be considered a reach at 2.09 but he's an SEC guy which we all know Nix has an affinity for.
I held a poll here at BillsMafia.com once I was on the clock and he ended up 1% behind Fleener who I'm sure surged strictly due to his fantastic pro day earlier that same day.
So now, Buffalo has a beast opposite SJ13 in Floyd and a big, strong athletic tackle in Massie, who is quick and "made to order" for Chan Gailey's offense.
Round 3, 10th selection (74th overall)
Pick acquired from Rams in #MockTwo trade
Chase Minnifield: CB, Virginia
I was hoping Trumaine Johnson (CB, Montana) was going to fall to me at 3.08, but he ended up getting selected at 3.03 by the Vikings. I later received an offer from the Rams to trade down 2 spots (I gave up 3.08, 4.10, and 6.08 and received this pick along with 4.01). By going forward with this trade I was able to upgrade my fourth round pick 9 spots and still get the CB I had ranked immediately behind Johnson (who many project into safety anyway).
I like Minnifield's ball skills and he's a character guy which we all know Buddy and Chan value.
Why draft a corner? Leodis McKelvin, the Bills' 2008 1st round pick, is entering the final year of his contract and I don't see him returning in 2013 — not after finishing at the bottom of the depth chart in 2011.
Round 3, 23rd selection (86th overall)
Pick acquired from Lions in #MockTwo trade
Keenan Robinson, OLB: Texas
I started getting nervous that Robinson wouldn't last another 9 picks as he was currently the top-rated remaining OLB according to MockOne.net — not that I was using the site's rankings as gospel but all it would take is one GM setting his selection for auto-pick and it would be bye-bye Keenan. So I worked out a trade with the Lions, giving up my 4.01 and 4.29 selections for this one here at 3.23.
Robinson has good cover skills and will hopefully help assist in ending the age old tradition of TEs having career days against us.
I see him learning under Kirk Morrison at WLB and also chipping in when the defense is running nickel.
Round 5, 9th selection (136th overall)
Kirk Cousins, QB: Michigan State
The Bills get a guy with great upside who Chan Gailey can develop over time. Above average arm strength translates well into the Ralph in December (and January!). Really pleased he fell to me here.
Round 5, 12th selection (139th overall)
Josh Kaddu, OLB: Oregon
Perhaps the best pick in terms of value of my entire haul. Very pleased that I was able to grab him.
Kaddu can mentor under Nick Barnett at SLB while bulking up to become a consistent pass rushing force. Has potential to become a beast in the NFL.
Best part of selecting him was seeing the Bengals and Lions GMs cursing immediately afterwards. :)
Round 7, 10th selection (200th overall)
Jeff Adams, OT: Columbia
Big fella, seems to be light on his feet. Good development project. Thanks go out to @Shaunta53 for pointing him out to me.
So there it is! What do you think? How'd I do? I wanna know your thoughts. Leave a comment below!
Evan Silva (Senior NFL Editor for Rotoworld, writer for NBC Sports & Profootballtalk.com) will be grading all of the #MockTwo drafts, team by team, so I'll be sure to let you know what his opinion is once he's posted it.