This past season came with an incredible start, and a depressing ending. Luckily, free agency did not follow that same trend. This year's free agency is different than anything we have ever experienced as Bills fans. This year it started fast, and ended great! We got without a doubt the best defensive player available and in my opinion the best overall player available. Yes, I mean better than Peyton Manning!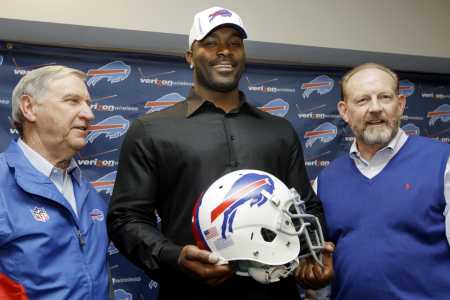 This front office is a breath of fresh air, not only in Buffalo, but in all sports teams that I follow. They made a statement this week that they aren't afraid to make a big move, when they determine it's the right one. Here's the thing though, it's not just this move that makes me love this front office. Let's take a look at what they've done in the past couple years.
It all started on December, 31st 2009 when Russ Brandon was promoted to CEO and Buddy Nix was hired as the new general manager to take his place. Though at the time most probably didn't think much of this move, right now it seems huge. The next step that took this organization to where it is today is the hiring of Chan Gailey as the new head coach. I'd say we had mixed feelings about this hire– we all wanted Bill Cowher, or some other big name coach. At the same time we were all just glad to see Mr. Jauron hit the road. The more I watch his style of offense I'm glad to have Gailey running this football team.
The next step seemed a lot like a step back, and maybe it was, but the 2010-2011 season was bad. The Bills started out 0-8 and ended up winning only four games to end the season 4-12. It was another painful season as a Bills fan, but it truly was a start of something new. I've been told I can't blame it on being a rebuilding year since we have been bad for a decade, but I have to call it how I see it, and that's what it was. When you change systems, you have to build around that new system– and that's what Chan, Buddy, and Russ were doing. Not to mention how weak our team was! If you didn't notice we had a lot of building to do, but I can see the progress that has been made, and a push to make more.
The 2011 season ended with only two more wins than the previous, but we all know it felt different. It felt like we were really on to something. We started out 5-2 and Chan's offense, run by Ryan Fitzpatrick, looked pretty much unstoppable. I was in Kansas City when we laid 41 points on them on opening weekend. It was a beautiful thing. It was great, and we were all excited, but then we slipped, losing 8 of the last 9 games. This has been attributed much to injury, especially now that we know that Fitzy broke ribs in the Washington game. I actually buy that excuse; injury really exposed our depth issue last season.
This week is the last step to bring us to where we are today. This front office not only brought big talent into Buffalo, but paid BIG BIG money to keep Mario Williams at One Bills Drive. This is something that we haven't seen from this organization in a LONG LONG time. Alright, that's the appetizer so let's get to the meat. Here are my reasons that this front office is something special, and that this franchise is heading in the right direction! (Warning: I am an optimist so haters should stop reading now.)
Buddy has a plan
Alright, it might not be only Buddy's plan, but he is the one who has articulated it most. Draft, Develop, and Retain. On top of that he has told us that he is willing to plug holes through free agency when he sees a good opportunity. What I like about his free agency approach is he doesn't stray from his youth movement. He isn't going to take a guy who only has a couple years left in his career. He takes young guys who have time left in their career, which is the good move for the longevity of the franchise.
Buddy has an advantage in this respect: He has been around the game for a long time! This fact helps him in two ways. One, he has the experience to know that franchises aren't built on an almost 36 year old QB who has maybe three good seasons left in his tank. (Yes, I am again talking about Manning.) He has seen that they are built on young talent that can stay with a team for a while. Two, he isn't the young GM that is trying to build his career. Younger GMs want to make a splash, and they want to do it now. They know that if they can dazzle the league with quick fixes and short term patches that it will look good on the resume. Those GMs often spend the team's money unwisely on older players, try to make themselves look like superstar executives– and often put their own image and career above the franchise. Buddy clearly isn't worried about his image, and he's not worried about where his career is going next! Buddy is worried about building a winning franchise, and not just for today but for years to come.
Buddy tells us his plan
This is why I wrote earlier that the Bills front office is a breath of fresh air. Buddy doesn't just sit in front of the microphone and tell the fans what they want to hear, and he doesn't resort to coachspeak which articulates absolutely nothing. He tells you exactly what he's thinking and he doesn't lie. Buddy doesn't get mad about the tough questions; he seems to get more upset about the fact that we never believe what he says. He relates exactly how he is going to go about free agency and the draft, and then does it. Not that he tells us everything that we want to know, because he can't. We need to remember that there are 31 other teams that could benefit from the information that he holds back. What Buddy does do is tell us everything that he can without disadvantaging the team– I absolutely love listening to his interviews. He's actually a very fan-friendly general Manager.
Buddy executes his plan
Buddy isn't all talk. He takes the responsibility on himself to make the team better by setting out to do what he started, which is following the plan which he has laid out– the plan to build this franchise through the draft!
Like I mentioned before: he wants to Draft, Develop, and Retain. The most important part of this plan is retention. You can draft great, and develop great, but if those guys end up playing elsewhere then the effort is essentially a waste. This year we have seen this portion of Buddy's trifecta in action. This started by extending Fitzpatrick during the season and continued by resigning multiple soon-to-be free agents last week, including Ruvell Martin, Scott Chandler, Kirk Morrison, and of course Stevie Johnson. All of these guys, other than maybe Martin, would have had the chance to go elsewhere, but chose to stay in Buffalo. When players want to stay with a team it is a very good sign. Especially players like Johnson and Chandler who could have probably made more money by moving on.
This is a different organization then we are used to and people are noticing. Mario noticed.
I expect this organization to continue moving in the right direction: towards the playoffs, and hopefully one day, a ring!