In case you missed it, Stevie Johnson re-signed with the Bills this week. ;) Two months of stress and worry among the fanbase was swept away in one short press conference.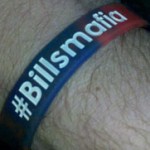 Bre, Leslie, and I wanted to do something fun to celebrate. Everyone loves the #BillsMafia wristbands, and we still have some from last season to spare, so we figured we'd do a giveaway…
But we wanted to make it fun and involve the Stevie news in some way. So after giving it some thought, we had a 45 minute contest window last night requiring followers of @TheBillsMafia on Twitter to post photos of themselves in Bills gear holding up "Welcome Back Stevie, from #BillsMafia" signs to show our excitement that Buffalo's favorite playmaker was re-upping for another half-decade. Three people were picked randomly and won a wristband. We got a pretty decent response seeing how we really only gave around 20 minutes notice!
Plus we got a pretty sweet little "welcome back" gallery for Stevie.
I think I can speak for all three of us when I say it was awesome. I'm pretty sure we had more fun than those participating. And Bre put it best when it was all over…
Anyway: Stevie, if you're reading this… enjoy the photos below and WELCOME BACK!