Welcome to Week 16's Mafia Monday. We begin a three-part series, interviewing each of the remaining "OG's" to complete the regular season. First up is @mrdeadlier.
Mafia Monday is an interactive element where members of the community can get to know each other and build unity by becoming transparent.

How long have you been a Bills Fan, and what's your earliest Bills memory?
I have been a Bills fan from pretty early on and my earliest memory is when Channel 29 used to run "The Chuck Knox Show" on Friday nights, back in the early 80s. I didn't understand pretty much anything they spoke about but for some reason that sticks with me. My first real game moment I remember is when we won the AFC East Division Championship thanks to Fred Smerlas' FG block against the Jets.
What is your favorite Bills memory?
My favorite Bills memory hasn't happened yet. We've come close four times. But I would do anything for the team to be back winning consistently like they did through the 90's. The atmosphere in WNY is so different when the team does well. I feel for the younger generation of fans who never got to experience that. Those of us old enough to remember know that we were pretty spoiled back then and had it pretty good.
What was the first Bills game you attended? Most memorable?
The first game I ever attended was October 7, 1990. We beat the then-unbeaten L.A. Raiders on the strength of a James Williams punt block and Nate Odomes ripping the ball out of (I think) Tim Brown's hands and running down the oppponents' side of the field sideline for a touchdown, both in the fourth quarter. It was awesome.
My "most memorable" game would probably the 2005 season opener, when JP started his first game as "the guy" in Buffalo. They beat the snot out of the Texans and I remember him going into the corner of the endzone that faced my season tickets just screaming and getting the crowd pumped up as the team went down the tunnel at halftime, as they were already winning handily at that point. I remember thinking, "This is awesome! We got our guy!" and it felt like we were in it together, like a moment was being shared between the crowd and him. So in the years following, that moment has stuck with me and the game's now most memorable for the wrong reasons, lol. I know we signed Fitz to a long term contract and I like him for what he is, but if we're all honest… We're still looking for "our guy."
Another memorable game is the 2007 Monday Nighter against Dallas but I really don't want to get into that as I'm currently in a good mood.
Do you own any Bills jerseys, and if so what ones?
I own 8 different jerseys. Moulds away (2002), McGahee home, Spikes throwback home, Owens throwback home, Owens throwback away, Edwards home, Fred Jackson home (2011), and I just ordered a David Nelson away (2011) which should arrive in the next few days. I'm also planning on getting a custom #75 (my birth year) with my Twitter handle on the back once the Nike editions are released in the spring. And yes, you read that right. I do in fact own TWO Owens jerseys, lol.
Favorite current Bill?
Stevie Johnson. The couple times I've met him he has been an authentic "nice" guy who seems to enjoy interacting with the fans and doesn't act like doing the whole "meet and greet" thing is a chore, like many players do.
Favorite former Bill?
No contest, Jim Kelly. I have a photo plaque and signed mini helmet in my office, plus a commemorative Hall of Fame football at home, which I'm hoping to get signed one day. It's funny… It seems like literally everyone I know in my immediate circle of friends has met him through work, events, etc (including my wife, who used to teach at the school his children attended) except for me. It's probably for the best though since I'm sure I'd just make a fool of myself if I actually ever had the opportunity to converse with him. :)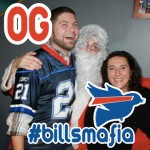 What is your favorite team to watch lose to the Bills?
New England, by a mile. I never used to really hate them. You know, I appreciated the program they put together… the whole "Patriot way" thing they have going on is a great way to run an organization if you can get the ball rolling initially. But that was until 2006 when they came to town. I remember driving to the game, talking with my buddy Jeff about how I appreciated the talent New England put together and how you can't really hate them for that (this was also pre-Spygate). As we took our seats, some obnoxious Bostonian sat behind me and just talked smack the entire game with his "pahk the cah" accent. Constantly going on about "J.P…. just putrid. The Bills suck…" over and over again. I looked at Jeff as we walked out of the stadium that day and simply stated, "I hate that freaking team." In fact it is because of that one guy that I hate ALL Boston area teams. Wherever that jerk is, I imagine him being happy whenever the Bruins, Celtics, or Red Sox do well and that is not a pleasant thought for me. When they lost Super Bowl XLII the next year, I thought I was going to cry tears of joy and to this day feel a debt of gratitude to the New York Giants.
Best tailgate food?
Anything that isn't going to spill, drip, or find its way on to my jersey.
Other sports you enjoy following? If so, favorite teams?
I follow other sports casually, but don't really have a favorite team in any of them (except the Sabres, obviously). But even with the Sabres, I don't really follow hockey season until after the Super Bowl.
Lastly, what does "Bills Mafia" mean to you?
I cannot restate it any better than how Jenn Steck did a few months ago, so I'm just going to link to her interview.
But I just want to say that even with the heartache, 2011 has been one of my favorite Bills seasons ever, if only for all the fellow fans I've met through this whole #BillsMafia accident. You guys are awesome and next year is going to be even more amazing once we turn the corner after another strong draft and hopefully an active free agency period. Billieve!