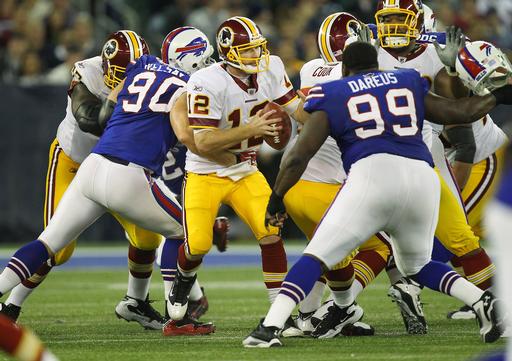 Domination station. Buffalo cashed in arguably their most complete performance of the 2011 season as they shut the Redskins out 23-0 and recorded nine sacks in the process. In the first six games of the season, the Bills were extremely successful at generating turnovers, however the most recognized weakness on defense was the pass rush. Well, questions regarding the Bills' pass rush were temporarily silenced after the outburst by the defense in Toronto.
Fresh off the recent news of his lucrative contract, Ryan Fitzpatrick turned in a respectable performance completing 21 of 27 passes for 267 yards, with two touchdowns and a pair of turnovers (interception and fumble). Fitzpatrick's two touchdown tosses were to tight end Scott Chandler, who appears to be back in his groove of exploiting his matchup against the defense. Chandler now has six touchdowns in 2011, which ties him for a team record for touchdowns by a tight end with Pete Metzelaars and Jay Riemersma.
Fred Jackson continued his dominant 2011 campaign as he rushed for 120 yards on 26 carries, while adding 74 receiving yards on three catches. Jackson has surpassed 1,000 yards from scrimmage (1,074) just seven weeks into the season, becoming the fourth player in team history to achieve that statistic and the first since Thurman Thomas in 1991.
Despite the commendable offensive display by Fitzpatrick and company, the defensive unit for the Bills stole the show on Sunday. Buffalo was finally able to erase their winless record at the Rogers Centre and hand Mike Shanahan his first shutout as an NFL coach in 281 games. Both safeties, George Wilson and Jairus Byrd, managed to intercept John Beck while everyone else on the defense was able to heckle Beck with and collaborate for nine sacks.
Perhaps the most satisfying performance of the day can be awarded to rookie Marcell Dareus. Dareus finished the day with 2.5 sacks and appeared to be living in Washington's backfield as he disrupted play after play. With Pro Bowl defensive tackle Kyle Williams sidelined indefinitely with an unclear foot injury, Dareus' effectiveness will largely contribute to the success of the defense. Although Dareus was matched up against a weaker offensive line, do not overlook the fact that it was his first start at defensive tackle as opposed to defensive end. Playing the nose tackle position, Dareus anchored the defensive line of Alabama in his college years and absolutely dominated his opponents. Look for Dareus to continue pestering opposing quarterbacks as long as he continues to fill the defensive tackle position for Kyle Williams.
Game Balls:
1. QB Ryan Fitzpatrick: 21/27, 262 yards, 2 TDs, and 1 INT. Let's give you a six-year, $59 million contract extension with $24 million guaranteed and see how you respond. Fitzpatrick was and will still be under the microscope for weeks to come in Buffalo, but his humble response and ability to continue his 2011 campaign is noteworthy. Well done, Ryan Fitzpatrick.
2. DE Marcell Dareus: 2.5 sacks and 4 tackles. Dareus silenced critics that he can fill the (temporary) void of Kyle Williams on the defensive line and live up to his hype of being the third overall selection in the 2011 draft. Expect to be hearing Dareus' name more frequently as the season wears on.
3. George Edwards: Find it a little unorthodox to give the game ball to a coach? Well, so do I… unless he truly deserves it. Taking a banged up defense that recorded a league-low of only four sacks through six games, then coaching that same defense to tally nine sacks in just one game, is noteworthy. Give credit to whatever Edwards altered during the bye week to create substantial pressure on opposing offenses, but if it is a trend that continues, this defense will be lethal.
Zachary Specht
Bills Mafia Blog