Editor's Note: Almost immediately following its official inception during the first week of August, the #BillsMafia movement has had followers naming/renaming their Twitter handles using the term "Bills Mafia." One of the first to do so was @BillsMafiaDon, the self-appointed "Don" of the movement. An active, vocal member of the #BillsMafia community, @BillsMafiaDon has been offered the opportunity to blog here at BillsMafia.com in a special weekly column.
Have you ever hit rock bottom? If you have, were you able to pick yourself back up? In life, the adversity we face on a daily basis shapes us as individuals, and our true character can be revealed in these times of angst and uncertainty. For me, my rock bottom occurred earlier this year, as I had lost my job, and had a very difficult time finding work again. The issues I faced during this time, whether they were of a financial nature, or just mental exhaustion, made it very difficult for me to keep a positive outlook in regards to the path I was traveling upon. If it weren't for the strong support from the people around me, especially my wife, I can't say for certain whether I would be writing this article for you all at this very moment.
While the experiences I had earlier this year were not the most pleasant, there was always something inside of me that kept me going. My inner voice would constantly remind me that my troubles were nothing in comparison to some of the things people deal with in this world. When we experience these personal lows, it is best to keep things in perspective, as there is certainly always someone out there who is dealing with even greater hardships than we are. Sometimes we just need to sit back, take a deep breath, and reflect on the blessings that have been bestowed upon us. This mindset got me through my hardest of days, and the experiences I had during this time resurfaced earlier this week, as I witnessed some of my coworkers lose their jobs due to budget cuts. Having been there myself, I know there will be some difficult days ahead for those who have been affected by these changes. I doubt that any of those individuals will be reading this column, but for the sake of putting it out there, I wish nothing but the best for all of you. Sometimes life can be cruel to the kindest of people, but I have no doubt in my mind that you will find your way, just as I have.
In case you haven't figured it out, the theme/message in this week's installment is one of perseverance. In this life that we live, there are no guarantees, but it's almost a certainty that each and every one of us will face difficult times at one point or another. Speaking from the perspective I've gained through my personal experiences, I'm here to share with you the idea that no matter what life throws at you, there is always a way to get through it. Don't ever let anyone convince you otherwise. Where there is a will, there's a way, and when that way is found, all things will fall into place. Our ability to pick ourselves back up after we fall starts with one simple concept: Belief. When times get tough, always remember that you don't have to look very far to find the inspiration you are seeking.
The Week That Was:
New England Patriots 31 @ Buffalo Bills 34
Week 3 presented us with quite a treat, as our Buffalo Bills were up against our divisional rivals in a matchup between two unbeaten teams. We all know what the storyline was leading up to this game, but to reiterate, the New England Patriots entered Sunday's game with a 15 game winning streak against the Bills, with the last loss coming on opening day at the Ralph back in 2003. The Bills were coming off a week 2 come-from-behind victory against the Oakland Raiders, and the morale at One Bills Drive was certainly high entering this very important game. If any group could teach us a thing or two about perseverance, it would be the 2011 Buffalo Bills.
It was almost an exact replay of last week's game against the Raiders, as the Bills fell behind early and found themselves in a 21-0 hole in the first half. At this point during the game, Rich Gannon stated that it would be very difficult to come back from this deficit, because falling behind to a team such as the Patriots was a much different scenario than falling behind a team like the Raiders. While Gannon may not have believed in our guys to get the job done, one thing is for certain: The players believed, and for the second straight week, the Bills came out victorious in dramatic fashion. Sunday's 34-31 victory over New England ended the streak that has been plaguing us for the last 8 years, and moved the Bills to their second 3-0 start in 4 years. While the world may have been telling the Bills they couldn't; they did. Here are some notes from Sunday's victory against the Pats.
On Sunday, Tom Brady threw 4 interceptions, his first 4 pick performance since November 5, 2006. The Patriots also lost that game, as they were defeated by the Colts 27-20 at Gillette Stadium. Brady's 4 interceptions Sunday equal his INT total from the entire 2010 season.
The Buffalo Bills are the first team in NFL history to win back to back games in which they trailed by at least 18 points.
Ryan Fitzpatrick is currently the #2 ranked Quarterback based on ESPN's new Total QBR rating behind Tom Brady (Brady: 85.3, Fitz: 83.7). These two Quarterbacks are the only 2 in the NFL who have a QBR above 80.
This is the fourth time the Bills have opened a season scoring 30 points in each of its first three games. The last time they did so was in 1992.
The Buffalo Bills losing streak of 15 games to the Patriots was the longest active losing streak in the NFL. Now that the streak has been broken, the current losing streak against one opponent is held by the Bengals, who have lost their last 10 meetings with the Bills.
Honest Analysis:
Leading up to week three's matchup against the Patriots, I had feeling that this was going to be our time to end the streak. Throughout the week, I was a bit nervous at the level of confidence exuded by the Bills Mafia, but I couldn't help but share the feeling that we would somehow come out victorious in week 3. Just like we had in week 2, our offense sputtered out of the gate against the Patriots, and we quickly found ourselves in a 21 point hole against a team that rarely squanders a lead as big as the one they had. Bills fans throughout the nation know exactly what Brady is capable of, and with this commanding lead early on in the game, there were many who started to share their disgust on Twitter.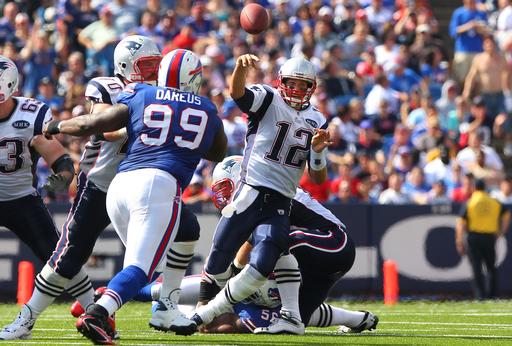 No fanbase outside of New England can attest to Brady's abilities better than Bills Nation, as Brady's lifetime record against the Bills going into Sunday's game was a staggering 17-1. One big concern heading into this game was whether or not the Bills would be able to keep Tom Brady from absolutely embarrassing our secondary. Through the first 2 weeks of the season, Brady had been dismantling defenses, kicking off the new year with one of the best statistical starts in NFL history. Early on, it looked as if he wasn't about to let up either. At this point in the game, things were not looking very promising, and the negativity was being spewed tweet after tweet. Not many were giving the Buffalo Bills a chance to win this game in the first place, but spotting the Patriots 21 points this early had made those media personalities a bit more confident in their opinions, as they began to pile on the Bills for their lack of productivity to start the game. Luckily however, this team doesn't know the meaning of the word quit, and they certainly couldn't care less about what these "experts" have to say.
The best way to beat Tom Brady is to get in his face and limit his opportunities, and while they didn't register a sack in Sunday's game, the Bills defense did plenty to fluster the future hall of famer. Brady was pressured, and the Patriots were unable to truly establish their running game. Despite the inability to bring Brady to the turf, our defense did a tremendous job closing passing lanes and getting their hands in the air when Brady threw the ball. On top of the 4 interceptions by the defense, the Bills offense continued to produce as the game progressed, and finished the game with 30+ points for a third straight week. The Buffalo Bills now lead the NFL in points scored, compiling a total of 113 points in the first 3 weeks of the season. To put things into perspective, the Bills didn't cross the 100 point plateau last season until week 7.
While I'm still going to remain cautiously optimistic, things are certainly looking up for our Buffalo Bills. I stated last week that the Raiders game was probably the best game I have ever been too, but if I had been in attendance for this most recent victory, this one would have taken the cake. What's there not to like about beating the Patriots at home to move to 3-0? I envy all of you who actually got to see this take place in person. Last week, I stated we would see a Buffalo victory by the score of 33-28, and I wasn't too far off with this prediction. I promise you that I will not be handing out A+ grades every week, but this performance will get a third straight perfect rating from yours truly. While the performance wasn't flawless by any means, this victory means more to us than anyone outside of the Bills Mafia will ever realize.
The Week That Will Be:
(3-0) Buffalo Bills @ (1-2) Cincinnati Bengals
Starting the season 3-0 is certainly a great feeling, but now is not the time for us to get too confident or too comfortable. Up to this point, the Bills have yet to face a top tier defensive unit, and they will get their first crack at a top 10 defense this week in Cincinnati. The Bengals may not have looked like a powerhouse early on in the year, but their greatest strength is on the defensive side of the ball. As we currently stand, the Bengals are #1 in the NFL in yards per rush allowed, allowing only 2.9 yards per carry. The Bills will be a great test for the Bengals' defense in this regard, as the Bills currently rank #2 in the league in yards per carry, gaining 5.6 a pop.
There is no question that the Bills offense has looked great up to this point, but the defenses we have faced in the first three games are not the best we will be seeing this year. Kansas City (23rd), Oakland (28th), and New England (32nd), have all looked pretty bad thus far. Who would have thought that the toughest test we would see in the first 4 weeks of the season was going to be the Bengals? Currently, Cincinnati ranks third in yards allowed, and sixth in points allowed. To put this into perspective however, the three offensive units the Bengals have faced currently rank 26th, 27th, and 32nd in the league (Cleveland, Denver, San Francisco). Which one of these units is for real; The Bills offense, or the Bengals defense? We will find out this Sunday.
While I don't expect a blowout this week, I do feel that we will get the victory in Cincinnati. The Bengals actually match up pretty well against us, so the Bills will have to get off to a good start in order to move to 4-0. My prediction for this week is a victory for the Bills, with the final score being Buffalo 23-Cincinnati 10.
Quote Of The Week:
"Everyone outside this room's calling this an upset, but in this locker room, this is what we expected." –Drayton Florence
Calling Out A Hater:
Sorry, but I have to do it… Hey, John Clayton… Yeah, I'm talking to you again buddy. How's your 27th best QB in the NFL doing? Oh that's right, he's 3-0, kicks butt, and wears Teenage Mutant Ninja Turtle tees on ESPN. You best fear the beard… he's coming for you!!!
And with that… I'm out.
Until next time family,
Sean (aka "@BillsMafiaDon")
Bills Mafia Blog