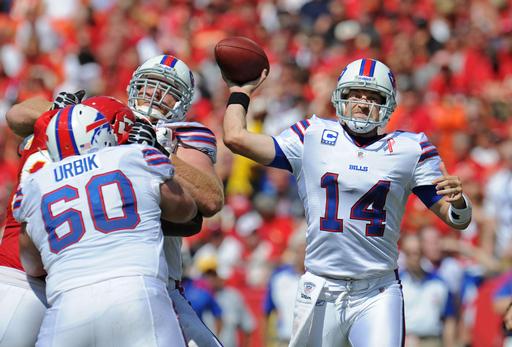 Optimistic Buffalo Bills fans can be quoted for predicting a win against the Kansas City Chiefs in Week 1 at Arrowhead Stadium, however predicting a 41-7 victory over the Chiefs may not have crossed most fans' minds. It appeared feasible to draw up a scenario in which the Bills could grind out a tough road game against a formidable home opponent, but the ability to forecast that the Bills would hand Kansas City their worst opening day loss in franchise history was unforeseen. [Editor's note: @mrdeadlier predicted 42-6 on Saturday night!]
Perhaps the most encouraging element of Buffalo's victory against the Chiefs was the ability to hold a potent ground game to only 108 rushing yards. Jamaal Charles appeared puzzled throughout the afternoon as he finished the game with 56 yards on 10 carries. The Bills front seven provided a relentless push that was able to neutralize an elite running game. Shawne Merriman provided Bills fans with encouraging words via his Twitter account last night by responding to a fan indicating that his shoulder injury is "all good."
The 41 points that were manufactured by the Bills offense is a solid indicator that the offense appears to have found chemistry. Once again, Fred Jackson was able to prove, through his performance, that he belongs as the team's starting running back. Finishing the game with 112 yards on 20 carries, Jackson provided the stability to Buffalo's offense that was necessary to attack from every offensive position. One of the most prominent questions that existed amongst every NFL team after the lockout was whether or not the team's quarterback could generate timing with his wide receivers. Ryan Fitzpatrick's career day of completing 17/25 passes for 208 yards and 4TDs proved that Buffalo's aerial assault is ready to progress from last season. The Harvard scholar displayed his ability to dissect a diverse defense as he continued to find open targets and produce scoring plays.
After a dominating Week 1 performance, it is natural that every Bills fan has scanned the schedule and simulated the rest of the season. Although it is still early in the season, it appears as if the new look, new feel 2011 Buffalo Bills are here to make a statement. I can only anticipate the Ralph to be rocking this upcoming weekend as the Bills host the Oakland Raiders in their home opener. Buckle up Bills fans, because we have departed on an exhilarating season.
Game Balls:
1. QB Ryan Fitzpatrick: 17/25, 208 yards and 4TDs. Fitzpatrick displayed that he is not an average quarterback in the NFL and he has the potential to become a game changer.
2. TE Scott Chandler: 5 receptions, 63 yards, and 2TDs. Chandler looked extremely comfortable as a viable red zone target in the Bills offense on Sunday. If Chandler is able to continue this level of excellence and exceed expectations, it appears as if the Bills have found a solution to their tight end woes.
3. Bills Defensive Unit: As unspecific as this third selection is, I believe the Bills defense deserves to be attributed the proper praise after a solid performance against Kansas City. The Bills defense and special teams collaborated to cause 3 turnovers and dominate a formidable ground game led by Jamaal Charles and Dexter McCluster.